This content has been archived. It may no longer be relevant
Principia in the early stages of considering designs for future renovations on School of Government, School of Nations, and Marshall Brooks Library.
Emily Staunton, Reporter
Voney is not the only building on campus getting a makeover. A group of faculty and administrators are in the earliest stages of working to renovate the School of Government, School of Nations, and the Marshall Brooks Library.
The team hopes to break ground Summer 2018. Principia has allocated funds to start the renovations, and may rely on fundraising to further support the project.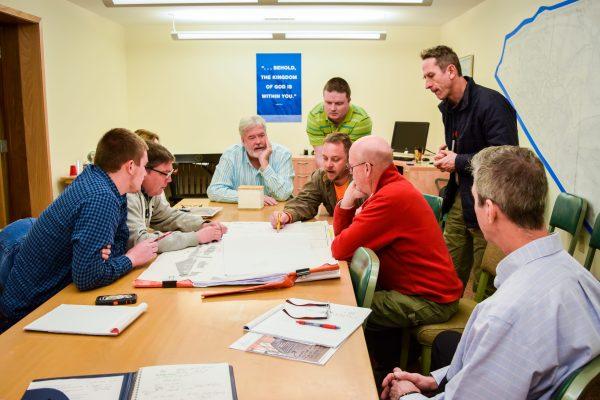 Originally, these buildings were built in the 1960s as temporary constructions. They currently stand in full use as classroom for students and offices for faculty.
Provost Dr. Joe Ritter shared five elements that the design of the buildings will promote: academic excellence, an excellent student experience, flexible growth, community relationships, and operational excellence. College President Dr. Palmer said that a main goal for the renovations is to make each building "a magnet for students."
Junior and education major Vanessa Ramirez finds the current cramped feel, imbalances in temperature, and small desks in current classrooms distracting from learning. Classrooms that are more flexible in regards to atmosphere, technology, and space are being included in the new design.
Ramirez said these lounge areas have a "home[y] feeling [that] supports education in a way that isn't just school education; [they show] you're learning throughout your life." Round table discussions in classrooms and group study rooms in the library are beneficial to 21st century learning.
It is more environmentally friendly and cost-effective to renovate existing buildings instead of consolidating them into one new multipurpose building.
More green practices include recycling current windows and installing active control systems and efficient heating systems. So, though no new buildings will be constructed, the team is strategically considering "adjacencies" by placing similar departments near each other in order to build community relationships.
Faculty offices will have more space for small-group discussions. There will also be faculty "pods." Three sides of the pod will be faculty offices with the fourth side being an open space for collaboration.
The group who will make decisions about the changes are made up of at least one representative from each building plus administrators and staff. Student input has also been key in the initial redesign planning. Architects will have drawings reflecting the changes in late spring.
Dr. Ritter says, "it is critical to figure out the transition process," including where classes would take place during a year of renovations. Trailers, Gehner, and house living rooms are some possibilities. No final decision has yet been made regarding temporary class locations.
Although many current students will not see the renovations, Dr. Palmer encourages students to think selflessly about the future. There "will be an opportunity for [students to give] feedback [before we break ground]," said Dr. Ritter. Principia's revamped spaces will be geared towards collaboration and discussion.