This content has been archived. It may no longer be relevant
When he graduated from Principia College in 2003 with a Religion major, Brandon Frank said he basically wanted to make a lot of money. But after working for Enterprise Auto Rentals and helping a couple of St. Louis start-up real estate agencies, Frank said he "got the call to really give back," especially to youths and the Christian Science movement. It was then that he went through Christian Science class instruction and was later offered the job of director at Camp Owatonna in Harrison, Maine, which Frank said is "a total dream job."
When he's not working for camp, Frank runs a side business that teaches technical soccer skills and character building. He said this helps kids have fun "where just winning isn't the end result."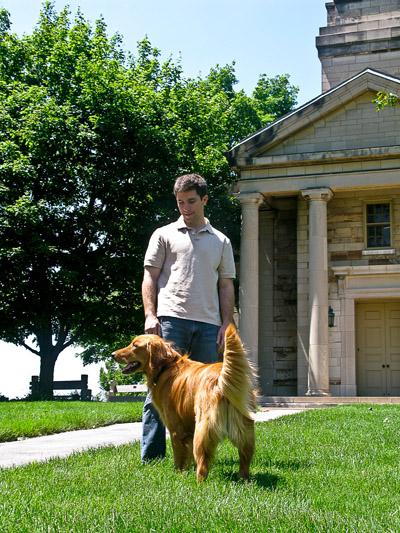 Most recently, Frank assumed the job of interim Buck House Resident Counselor (RC), a position he will fill just for this quarter.  After that point, current Lowrey RC J.D. Daugherty will move out of Lowrey and into Buck as its new RC.
Frank said, "The Buck guys are awesome. They're very thoughtful, responsible, sincere, genuine, honest young men, and it's good to see that the 'House of Gentlemen' is actually filled with a great group of gentlemen."
Those gentlemen love Frank too. Junior Colin Clark remarked on his constant smile and awesome dog, and senior Ben Kniola said, "He's assimilated into the house well and the guys like him." Kniola, who serves as Buck House's treasurer, also said that Frank has a lot of supportive metaphysical ideas and insights.
Like Clark, Kniola and the other members of Buck also love Kodi, Frank's two-year-old golden lab mix. Frank said that various Buck guys have even volunteered to take care of the dog on weekends when he's away on camp business. According to Frank, Kodi loves everything to do with water, and he said, "He's not a big fan of fetch, but he loves people."
Frank joked that Kodi is "mostly disobedient" as he watched the dog run playfully toward those of Frank's sister Julia (who is an Admissions counselor) and Sylvester RC Connie Crandell.
At a recent Quiet Time talk he led about the importance of right motives in sports, Frank reflected on his time as a member of Principia's soccer team. After training to his utmost physical fitness for his junior year season, he found that, while his team did well, he struggled personally. The next year, he switched his focus to a "more spiritual sense of joy and dominion," and said he found a lot of freedom and did fairly well.
Frank now puts living with a sense of purpose at the top of his priorities, and he said he is a "big fan" of humility.
When he was a student, he was a member of the Principia abroad to China, which also visited neighboring areas. After spending this summer at Owatonna, Frank will head to Asia with a Principia group for the second time – but this time to Japan as an abroad RC.
He has already done a considerable amount of traveling, which sophomore Natalie Zdan, a Japan abroad member with Frank, said "is really cool." Frank went to Europe to play soccer when he was in high school, and he has also traveled to South America, Turkey, and Greece. Within the U.S., Frank said there are only four or five states he hasn't visited. Zdan said,  "He seems really excited about getting to know everyone on the abroad." She added, "He has some really good metaphysical ideas and I think he'll be a great RC."
Frank shared wisdom gained from his life experience: "What you do won't be as meaningful unless the purpose is really clear."
Image courtesy of Amber Dahlin