Almost every person dreams of having a sports car that flies around curves and turns on a dime when you dump the clutch. Everyone wants to fly at a million miles an hour. The problem is, usually these things can only happen on the weekend (unless you drive Daddy's sports car during the week). In the case of kids who did that at my high school, they wrecked their parents' car by speeding.
Is it possible to find a solution to these problems and still have a car for daily use? It looks like Ford can help.
Ford has recently come out with the newly designed Taurus SHO. The radical updates are experienced early on. Just getting into the car, you have the choice of using the key fob or just walking up to the car. The car senses the key and unlocks for you. Once you're inside, all you have to do is push a button to start the engine.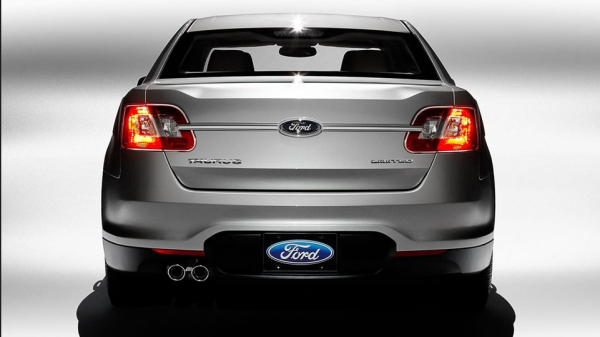 The futuristic technology doesn't stop there. You can also program the voice sync technology so that the car operates on voice commands. The SHO also has control buttons on the steering wheel for the radio, cruise control, voice sync, and Bluetooth.
Ford has made other changes, some of which are aimed at those reckless drivers from my high school. Yes, the SHO has a 365 horse power 3.5-liter V6, but, Ford seems to be saying, why should teenage drivers have it so easy? Ford now gives out multiple car keys for which the owner can program permissions. Basically, this is so that when Daddy gives his son or daughter their own key, the car knows which key is being used. Then when the kid goes out, the car knows to only allow the kid to go certain speeds and can track where the kid goes. This feature isn't so much an effort to be Big Brother as it is to be Big Daddy.
Four of the SHO's fantastic safety features are the Collision Warning with Brake Support (CWBS), adaptive cruise control, Cross Traffic Alert, and Blind Spot Information System (BLIS).
The CWBS makes noise and lights up a red bar on the windshield to get your attention when its radar sees you accelerating directly toward a stopped or slower moving object. The car also begins to brake for you if you have a slow reaction time. The adaptive cruise control works similarly to slow down the car so you don't have to worry about coming up on a car too fast while using cruise control.
The Cross Traffic Alert has radar on each side toward the rear, and it tells you if traffic is coming up behind you as you back out of a parking space. This radar system doubles to give you the BLIS technology. BLIS lets you know when a car is in your car's blind spot areas. A light on each side view mirror lights up if the space is occupied.
Some other features include a sat-nav (satellite navigation) system to warn you of traffic and impending weather conditions. Automatic high-beam headlamps are a cool feature where the car senses other headlights, and if none are found it puts the high-beams on for you. You almost have every excuse to be lazy with this car. I encourage anyone considering this car to go to a dealership and pick up a free booklet on it. It will blow your mind.
You also might want to test drive this car. On the course I drove, I experienced acceleration similar to the 2006 Audi A4 I drove last year. Once more the suspension was amazing. I felt like I was hovering above the ground. When I got to a hill, I accelerated almost as fast as I had on flat ground. At one point I took a wrong turn in the car and got momentarily lost, but it didn't matter because it was such a pleasant car to be in. Plus, I had the sat-nav at my finger tips.
This car could change your life in so many little ways. It is a fun car to drive even though it's far from being a Ferrari. Then again, do you really want a two-seated, loud, screaming gas guzzler like a Ferrari to drive every day when you could have this grown-up, family-friendly car that seats five pretty comfortably and is so quiet that you can hear a pin drop?
However, while the Taurus is fast, it's not a car you buy for performance. Its tiptronic transmission wasn't super responsive and it didn't let me down shift. Outside of that, the car was such a nice ride. It was smooth, never lacking in power. What's really interesting is if you get a lower end model, you still get a few bells and a few whistles. Also, non-SHO models still have 263-horse power!
Ford has spared no expense in making their new Taurus something to really get excited about. This is a car you buy to make everyday life seem that much more interesting. This car makes the bold statement: "Why have a car that gives you life-changing excitement off the scale, but only on weekends? Why not have a car that makes your every day more exciting?"