This content has been archived. It may no longer be relevant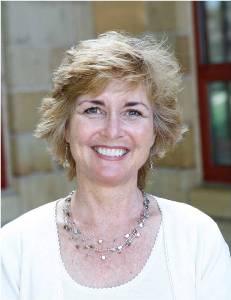 What does the life of the Principia College President's wife entail? Who is the lady that lives in beautiful Hutchinson House and currently provides the campus with inspiring readings at CSO testimony meetings? When you ask her, you will find that Sue Palmer, our First Lady, has a long history with Principia and a lot to share.
Sue Palmer was a student at Principia College herself. She transferred to the College after her first year, and graduated in 1979, with a double major in Business Administration and Sociology & Anthropology. During her time at the College, Mrs. Palmer lived in Sylvester house, which was a women's dorm at that time, and served as the house president. She married Jonathan Palmer on the day after her graduation. Today, Dr. Jonathan Palmer is not only College President, but also Chief Executive (CE) of The Principia as a whole. Her husband's positions give Mrs. Palmer the opportunity to frequently participate in the life on both Principia campuses and thereby to establish a relationship with students of all ages.
Mrs. Palmer said: "I am always just looking for ways to support and connect. Certainly, to do the more official functions that we have at Hutchinson House better, but also to be open to other things that we could be doing around campus. I think our goal initially was to be as transparent and as accessible and open to what Principia needed at that time." Her strong desire to be open and transparent for the students comes from her great love for this institution. Mrs. Palmer said: "Principia allows us to see everything that we do as a vehicle for spiritual growth. The academic preparation is vigorous and important, but I think the most valuable thing, was that all of it—whether it is student government or academic preparation—is the foundation of your spiritual growth. The academic focus just prepares you for one part, but the overall spiritual foundation is more compelling. And I think this is an environment that really supports that, that really points that out to you along the way. And from that standpoint I do think that Principia is unique."
Mrs. Palmer is very grateful for her own time at the College, so she sees her husband's and her position in a very distinct way. Mrs. Palmer said, "It was a chance [for us] to give back!"
When Dr. Palmer took over as President in summer of 2008, Mrs. Palmer did not lose any time in jumping right into things. Mrs. Palmer said, "Of course it was a little bit surreal.…What helped make it more real, was that I was really eager to get involved. I sent an email around to faculty and staff, asking for anyone who wanted to take the time to get together for lunch or for a pub date so I could get to know people one on one. I had about 45 people take me up on that." Mrs. Palmer also said that Principia needs to be represented in the outside world. After living in Elsah for a year, she was appointed to the Elsah Village Board, an organization that supports the interests of Elsah. Mrs. Palmer said, "That is a great way for Principia to be represented in Elsah and to make sure that Elsah feels that they know a little bit about Principia."
Her main focus, however, is definitely on The Principia itself, and especially on its students. She and her husband host dinners for speakers who come to campus and during special events, such as the Pan African Conference and the Public Affairs Conference. Mrs. Palmer is also eager to open Hutchinson House up more to the students. Mrs. Palmer said, "We have tried to share Hutchinson House perhaps a little more with the students than in the past."  The new freshmen in particular are encouraged to get to know the Palmers better. "We have each freshman house come for dessert and a game their spring quarter…. It is a big a group for us to get to know them, but it is an attempt for them to get to know us," said Mrs. Palmer. This event is new as of last year. Mrs. Palmer said: "We started that because I had a couple of people say to me at Strawberry Festival, which is for seniors and is the weekend before they graduate, 'This is the first time I have been to Hutchinson House'. So I thought, 'We've got to change that!'"
Strawberry Festival has changed a little since 2008. The outgoing seniors are invited to Hutchinson House during their spring quarter. The men barbecue while the women have tea together. Both groups get to speak with three members of the faculty and staff, who share what they wish they had known when they graduated from the College. The whole gathering is designed to provide a comfortable and thoughtful atmosphere for the graduating students.
These are definitely events that freshmen and seniors can look forward to this upcoming spring quarter.
Mrs. Palmer also makes efforts to be present on the St. Louis campus. This is especially important due to her husband's position as CE, which makes him responsible for both Principia campuses. Mrs. Palmer said, "When [Dr. Palmer's work as CE] started last fall I sent an email to the school faculty and staff, asking them to think of ways that I could be helpful or be an audience for something that classes were doing, help participate in a class project, et cetera." Mrs. Palmer loved serving as an eighth grade speech competition judge, participating in Upper School English class book discussions, and helping the art teacher to work with the students to make decorations for their Christmas tree last year. Mrs. Palmer said: "I would love to be able to do more at the School to support them. But then, I am always looking for ways to connect with the College as well."
Sue Palmer loves to be part of the community and to connect with students and community members on campus. So the next time you see our First Lady, you might just want to ask her how her day has been, and you will surely find yourself in a great conversation.