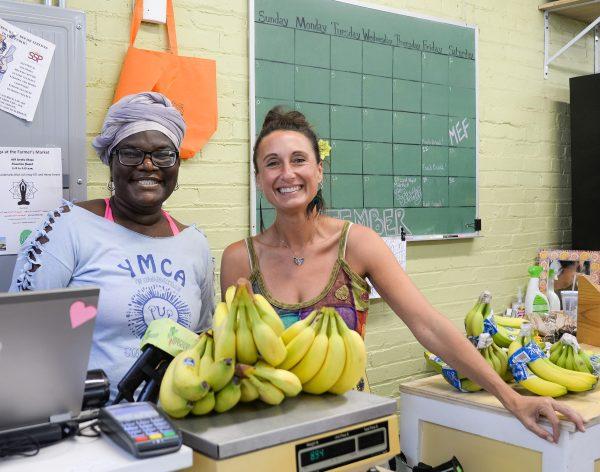 Have you ever wanted access to high-quality health foods without driving all the way to Whole Foods in St. Louis? Luckily, this little hole-in-the-wall grocery store is exactly what you need.
Located just 22 minutes away in Old Alton, Grassroots Grocery is a progressive grocery store that offers organic food, farm-fresh produce, health food and personal care products. It gives you all the same benefits of a farmer's market, like access to locally grown fruits, vegetables and a friendly environment. But unlike a farmers market, Grassroots Grocery is open all week.
Grassroots Grocery is a non-profit organization that was founded by people concerned about the health of the local community in and around Alton, which is currently declared a food desert by the United States Department of Agriculture. Grassroots' mission is to increase access to fresh, organic food in low-income areas and support local food producers and farmers. As executive director of the store Sara McGibany said, "[the founders] saw the need for more access to local produce." They compassionately met that need by opening the store.
The store is purposefully located in a lower-income area to allow people with limited transportation easy access to its offerings. Before Grassroots opened, the nearest grocery store with organic foods was over 30 miles away.
Grassroots' Grocery vows to provide "locally-sourced food." Whenever possible, they support local food producers within a 50-mile radius, from places in Alton to St. Louis to Edwardsville. For example, baked goods are sourced from 222 Artisan Bakery in Edwardsville, and local honey comes from Honey Bee Farms in St. Louis.
Not only is Grassroots Grocery providing healthy alternatives, but the employees happily answer any questions that customers might have about sustainable living and healthy food choice. Local kids are invited to wander inside the store and receive a free piece of fruit, hang out in the safe space, and recognize the importance of eating seasonally firsthand. When the peaches are replaced by apples in autumn, the kids are taught that fruits and veggies should only be eaten when it is their natural time to grow.
Grassroots Grocery is all about customer feedback, with decisions about stocked products informed by listening to in-store and Facebook suggestions.
On a recent visit to the store, I asked if they sold a tea drink called Yerba Mate. They said they did not, but would happily order it during their next shipment. I was amazed at how dedicated they were to creating the best experience possible for their customers.
Grassroots Grocery also has a very positive relationship with Principia. When they were just starting their business, they needed a lot of painting to be done before they could open and people from Principia happily came to volunteer. Principia has also helped by handing out fliers, restocking inventory and painting the beautiful mural on the side of the store. They are always looking for more volunteers to come and help out.
Image courtesy of Laura Cluthe