This content has been archived. It may no longer be relevant
Finding something fun to do on the weekend can turn into the ultimate challenge when you go to a school smack-dab in the middle of nowhere. The trick is to get creative. You would be surprised what you might find driving down the River Road. Grafton, a quaint town situated along the Mississippi River, is only a seven minute drive west of the College, and is a great spot to hang out and enjoy some tasty treats.
Best known for its down-to-earth personality and quirky antique shops, Grafton is also the perfect place to get away for a day and enjoy the quiet beauty of nature. The riverfront is a great place for people-watching and photographing wildlife. And don't be intimidated by the biker guys on their Harley Davidsons –– it all adds to the hometown flavor of this unique gem of a town.
Here are a few of the top spots to grab some Grafton grub:
Grafton Fudge – 321 E Main St, Grafton, IL 62037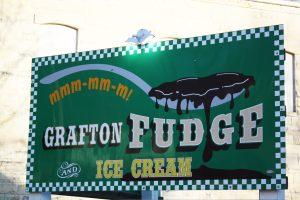 Grafton Fudge Store Country Corner offers a wide variety of fudge flavors and Edy's ice cream at reasonable prices. Try their delicious cheesecake fudge with a cup of house blend coffee. Be sure to try the sea salt caramels as well. You won't be disappointed!
Peace of Quiche, a Café with a Cause – 111 East Main Street, Grafton, IL 62037
Peace of Quiche is dedicated to raising awareness about local charities and organizations, and supporting those who make a difference in their community. Ten percent of the restaurant's proceeds go toward charities every month. Peace of Quiche serves a variety of hearty breakfast and brunch dishes, including feta and spinach quiche and zesty sausage and cheese casseroles. It's the perfect spot to enjoy a hot breakfast with friends overlooking the scenic view of Grafton.
The Whole Scoop – 222 East Main Street, Grafton, IL 62037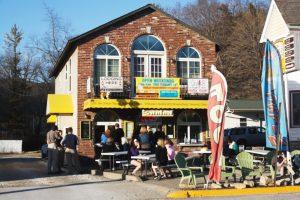 Have a hankering for something sweet? Indulge your sweet tooth with mouthwatering flavors of soft serve ice cream, frozen yogurt, and milkshakes from The Whole Scoop, a family-owned restaurant with friendly service and delicious fare. The crowd-pleasers include the Mississippi Mud Pie –– vanilla soft-serve caked in hot fudge, crushed oreos and gummy worms –– and the Life Boat –– a brownie covered in mint chip and strawberry ice cream, hand-dipped in chocolate sauce, and topped with whipped cream. Its bright and cheery atmosphere is the cherry on top to this charming little shop along the riverfront.
Lastly, a shop you won't want to miss:
Pajarito Native American Shop – 316 East Main Street, Grafton, IL 62037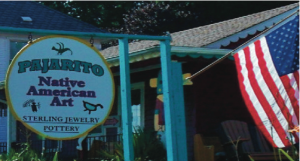 Pajarito has been recognized by the Council of Indigenous Arts and Culture as a shop that sells authentic Native American products. Enjoy browsing through jewelry, art and other cool little trinkets. They have everything from dreamcatchers to handmade pottery. You'll love the authenticity. The employees are friendly and happy to talk with you about Native American culture. It's a fun stop to pick up a truly unique souvenir.