This content has been archived. It may no longer be relevant
"Whatever an education is…. it should allow you to find values which will be your road map through life…."
– John Taylor Gatto
Just this last winter, two Principians, Amber Dahlin and Jewelle Matheny, embarked on a three-month adventure to study sustainability in three Central American countries: Nicaragua, Honduras and Costa Rica. They joined an abroad through the Center for Ecological Living and Learning (CELL), which focuses on fostering "sustainability through community."
CELL operates programs in Central America, the Middle East, Iceland and East Africa. In these experiential curricula, students are 'learning through doing' – that is, they may install solar panel electrical systems, or construct solar ovens– all while taking classes worth 15 quarter hours of college credit. Dahlin said: "I love learning things that really excite or engage me, even if it means sitting in a classroom and getting …homework, but this year has taught me that I thrive most in experiential learning situations…Life itself has been my primary educator."
Both Dahlin and Matheny thought they had a pretty good idea about what they would gain from participating in the CELL Central America program. Both reported that the experience taught them far more than they could have imagined, and that it even changed the directions of their respective futures. What Dahlin and Matheny have in common from their experience is an energized spirit of unselfishness. They both learned more about what it means to serve in a community, and they plan to take what they have learned forward into the rest of their college experience and beyond. While talking to each of them about their experiences, their faces glowed with an enthusiasm and love for the lessons they learned and the people they met.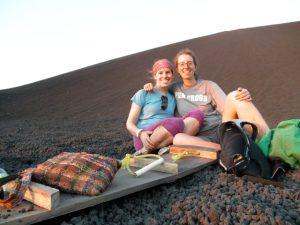 One of the biggest takeaway lessons from this experience for Dahlin was the change in how she viewed her role in serving her community. Before traveling to Central America, she had her heart set on serving her country in the Peace Corps after college, working with non-governmental organizations abroad, and assisting people in other countries with building self-sustaining communities. However, Dahlin said that working with different types of NGOs on the ground in Central America made her question the efficacy of some NGOs implemented by foreigners.
Though many NGOs are successful, Dahlin observed that sometimes when the NGO operates from "the top down" (when management consists of people not native to the country within which the NGO is operating), the organization had the potential to be less effective. She came to realize that the community she could best give back to was her own community. Dahlin explained: "Being abroad ultimately brought my head back home and made me realize how important I could be to communities in my own country. But living within another culture for a good amount of time can be incredibly enriching."
When asked about what her education abroad meant to her, Matheny said she gained a love of interactive learning. She said: "Education means hands-on. Living, doing it, and becoming an example and sharing with others.  I learned more on that trip than I have in my entire life." Matheny said that being "in-country" and experiencing education was more effective for her than the traditional educational model. Matheny said: "I learned I actually do like to learn, but classrooms are just not the right medium for all people. It's one thing to write a paper and do endless research but that portion of school should be in the reflective process, after you have gone out and done what your paper is on."
Matheny's time in Central America solidified why experiential education makes sense to her: "I think experiential education changes your overall view on things … it changes the big picture instead of the details," she said, "That is super important, especially when we are all defining who we are and what we believe." One of her favorite lessons that she brought home was: "My perspective on what was important to me changed…I really value intentional community and family [and being] loving a lot more, to friends, strangers and the environment."
If true education points out students' values and gives them a direction in life, then Dahlin and Matheny's experiences prove the need for an education that feeds the soul and gives students a direction in which to move. For students thinking about going abroad, Matheny advises, "Be prepared to grow." For these two Principians, an openness to growth and new ideas led them to CELL in the first place, and ultimately led them home with a renewed perspective on how to better serve the world around them.