This content has been archived. It may no longer be relevant
Coaches, teams, and strategy take on a new, digital look
Cedar Brumm, Sports Reporter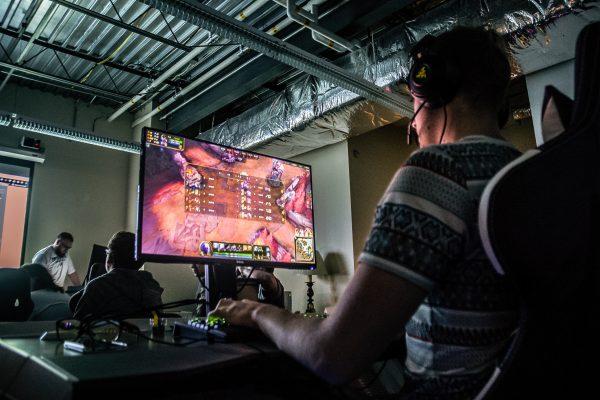 Last year, five students from the University of British Columbia (UBC) competed in an eSports tournament called the League of Legends campus series. These students faced off against teams of students from schools such as Ohio State University, Michigan State, Robert Morris University, Harvard, and many more. The UBC team ended up winning the tournament along with the $8,000 scholarship per player grand prize.
Over winter break Principia Athletics announced the creation of an eSports program. This announcement was met with excitement from some, contention from others, and confusion from many.
Despite concerns from students, the eSports program is not funded by the athletic department and is unrelated to the suspension of the women's basketball team.
eSports has been referred to by many as "not a sport," and this is completely understandable. In most sports, you are moving your body, sweating, thinking on your feet, and making split-second decisions.
Although competing in eSports is not as physically active as other sports, there are elements of athletics and competition in its practice and play. Many eSports games are highly strategic and players are often required to practice for hundreds of hours in order to perfect certain moves that they intend to use during a match.
Often, there are coaches and analysts that help teams understand how to work well together, develop strategies for competition, and understand what they do well and what they do wrong.
Many may not feel that eSports is a true sport, but the need for coaches, teams, and the ability to analyze play is crucial to the success of an eSports program. Principia Athletics has been extremely helpful to the eSports program in providing it with the means for success.
Not only does this allow people who don't play traditional sports the chance to organize with others and be social, but it also puts Principia on the leading edge of the movement, allowing modernity and growth.
One admitted student says, "This is so awesome. I can't wait to play on the team, and this makes me even more excited to attend Principia."
There are many that are excited about the new eSports program. At the first official meeting of the eSports team, there were 22 students in attendance. However, the official eSports team page has over 40 students interested in competing.
This semester, students on the eSports team have the opportunity to compete in a collegiate hearthstone and the Collegiate StarLeague League of Legends tournament. Both tournaments offer students scholarships to those who perform welll.
In the Hearthstone tournament, there is the opportunity to win up to $10,000 per person in scholarships and for Principia to come out strong in a sports scene that is rapidly gaining traction across the nation.
Image courtesy of Lee Tarnow