This content has been archived. It may no longer be relevant
Dance Production is over. Sad? No need to be. Come June, Principia's first-ever Alumni Dance Retreat and Production gives dance-lovers another chance to share the joy of dancing at Principia.
From June 20 to 27, Principia alumni will offer a wide variety of classes, workshops and seminars, including tap, ballet, modern, ballroom, swing, Yoga, hip hop and more for $210, including food and lodging in a dorm. The week will culminate in a Dance Production for alumni and guests on Saturday, June 27. Open to anyone from current students to alum and faculty, both beginners and advanced dancers, this Retreat's motto is "To preserve the past, support and protect the present and inspire the future of Dance at Principia."
Emily Ward (C'08), who started the ball rolling on this idea (which previously existed in grassroots), describes the Alumni Dance Retreat as "a great opportunity for students or alums aspiring to go into dance professionally. Students can train in different styles, do more performance, add it to their resume and most importantly network with professional dancers who are Prin alums." Also, it provides a place for alumni to catch up with old friends, create bonds between dancers, and express the joy of dancing together again.
The Retreat is aimed at bringing people together, not only those who danced at Principia but "everyone who loves dance and loves Principia, beginners and advanced, from current college students to people who danced back in the 50s and 60s," says Ward.
A theater major and dance minor, Ward was inspired when she returned to Principia to watch the Dance Production a year after her graduation. "I saw how many of us dance alums came back to the show and still feel those deep connections." On her drive back home, she called up Hilary Harper-Wilcoxen, Principia's current dance professor, and told her "the time has come for an Alumni Dance Production!"
She soon joined forces with Chris Dunbar (C'77,) a former professor of dance at Principia ('78-'82), and the vision began to take form. Together with the Alumni Office, they sent out letters to over 1000 dance-loving or dancing alums. "And we haven't even reached everyone yet," Ward says. "We're still working to find everyone who's been touched by dance in the history of Principia."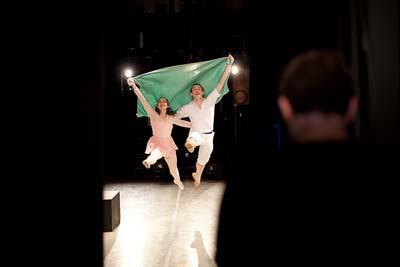 Preserving the past and thereby supporting the present is an important component of the Retreat. Possibly unknown to many, the history of dance at Principia is far-reaching and somewhat bumpy as it has changed shape throughout the years. "Dance at Principia has been done as an extracurricular activity, a dance club, and through the decades, been in and out of various different academic departments offering course credits in dance techniques, choreography and composition, dance history and appreciation, dance production, special projects and independent Special Majors and Special Minors," Dunbar explained.
Dunbar spearheaded the creation of Principia's own self-standing Dance Department approved by the Academic Council and Curriculum Committee in 1980. However, the Dance Department was temporarily discontinued two years later, primarily to use funds for the newly developing Computer Science Department. Currently, the program is under Harper-Wilcoxen's supervision in the Department of Theater and Dance, which has offered a Dance Minor since 2008.
The Alumni Dance Retreat would also take a step towards the National Arts Standards for schools: Sequential comprehensive dance programming, which means that dance should not be confined to one stage of education but continue and progress throughout all stages of life-long learning. "It's not over when they graduate," Dunbar said, "there's a very good reason to come back to Principia now!"
Dunbar, Ward and Harper-Wilcoxen all wholeheartedly agreed that Principia's dance program offers a perspective on dance that is unique in the professional dance world, which is too often marked by body image, ego, competition, and individualism. "Here, the dancers are really supportive, creative and do it for all the right reasons. You really get a glimpse of what it means to dance to glorify God without fear, limitations and ego," Harper-Wilcoxen observed.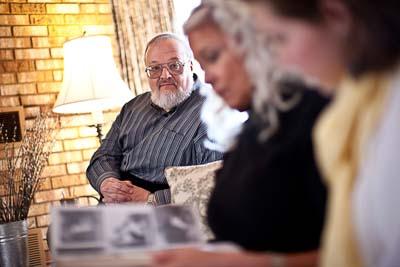 "It's such a great discipline with the wonderful underlying principles of creativity, inspiration, and teambuilding," she added. "I would love to see alumni take that and hold on to it, and use it in their own unique ways. This Alumni Dance Retreat will allow Principians to refuel on the spiritual basis of dance in order to go out and share it with the world."
If you're interested, ask for information at principiaalumnidance@gmail.com or register at principiaalumni.org/dance to experience the unique celebration of Dance at Principia this June!