This content has been archived. It may no longer be relevant
Principia's diverse community offers a wide range of global perspectives. Eighteen percent of the current student body are international students representing approximately 30 countries, according to the Principia College website. In addition, domestic students hail from all over the country. Approximately 42 states are represented on campus, also according to the Principia College website.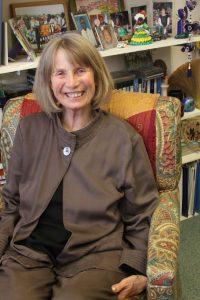 After careful observation, however, it seems this unique and diverse environment is not always fully appreciated. Walk through the Dining Room or the Pub and you will often find a segregation among students. Look at the room charts of each house and you'll see it's uncommon for a domestic student to share a room with an African student. There is a seeming divide, whether intentional or not, between many international students, particularly those from Africa, and domestic students. This is not new to many of us at Principia, yet it persists. This issue has been brought up countless times through class and informal discussions, student surveys, and even sociology class projects. So if there's this much discussion happening on campus, is it just a lack of action that seems to perpetuate this divide?
Bente Morse, Principia's International Student Coordinator, believes that neither group of students is exempt from reaching out. "It's a two-way street; we all have the responsibility to make an effort to get to know each other," said Morse. She suggested that one reason behind the seeming divide is the fact that after a long day you "need to let your hair down and sit with people that speak your own language . . . rather than always having to be on your toes and be there to educate." She also believes that a lack of awareness contributes to the issue and that people must be courageous and willing to sit with someone they don't know. "It really is all about healing ignorance . . . a stranger is just a friend you haven't met." Morse added that she has seen a great deal of progress in the 22 years she has worked at Prin.
Frederik Ochieng, a junior from Kenya, said he believes the issue is a "conflict of culture." Fredrick said: "Most African students are raised in a culture that really appreciate[s] those who are around you … Even if I'm far from home, I expect to be in touch with people I'm around…"
Ochieng said he was disappointed to find that a similar mentality did not seem present at Principia. He started wondering if there had been a bad history with international students at Principia. He now believes that the difference in culture is the biggest cause for the divide.
"Some stories just don't relate . . . something that you guys will think is funny, won't be funny for us," said Ochieng. Christian Science, Ochieng feels, is common ground for students of all backgrounds, and he is certain it can be a significant help in bridging the gap.
Ochieng and some of his friends started a band on campus in an effort to expose their peers to African music. The band was disappointed by the lack of students who showed up to their shows and, according to Ochieng, someone even suggested that the band play songs in English to generate a bigger crowd. Ochieng feels that playing songs in English would defeat the purpose of the band, "What we are trying to bring is our culture for them to understand." He adds: "I listen to music from every part of the world. I listen to Spanish music, I don't even know what they're saying but I just love it," said Ochieng.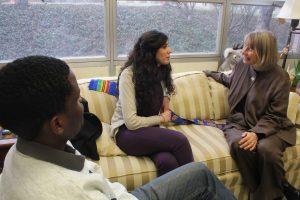 The Pan African Conference, an annual event focused on some aspect of African society and culture, is an on-campus tradition that helps unite students from all over. From Ochieng's perspective, this conference has not been well attended by domestic students. During the conference his sophomore year, he "felt like the Principia community was not there at all … domestic students were very few." On the other hand, Fassio Elder, the Co-Director of this year's Pan African Conference and a junior here at Principia, says: "This past year we've had the highest participation of domestic students on the board of any Pan African Conference in the past."
Some feel that the New International Student Orientation (NISO), required for all international students when they arrive their freshman year, doesn't help unite the two groups of students. Elder, also a member of Student Senate, mentioned that many people feel international students should not have a separate orientation.
In reference to NISO, Elder said: "I think that's an interesting idea, but I think it's problematic." Morse said: "The New International Student Orientation is a supplement to the regular new student orientation with information vital to the international students." She also mentioned that important documents such as social security cards are received during this time.
Ifi Xifre, the international student representative on Student Senate, said there has been discussion about whether modification of the orientation is a good idea, but that nothing has actually been decided. Xifre, an international student from Uruguay, went through her orientation with 11 other male students from Kenya. She feels this forced her to open up and reach out despite cultural differences. "For me, maybe I wouldn't have reached out so much if I hadn't gone through orientation with all these people … I had to bond."
Daniel Osae, a senior from Ghana, recognizes the importance of the orientation. "It was really important because you're coming from a totally different place," said Daniel, "It teaches you the basic stuff about what you need to know." Osae also recognizes that the bond international students develop during orientation could be a reason for the separation between different groups of students.
Another invaluable event on campus that helps students learn and engage in cultures unlike their own is the Whole World Festival, sponsored by Friendship Around the World. The annual event is an opportunity "to come together through the arts" said Morse, "It transcends the cultural barrier." This past weekend, student performers participated in the event, which also featured entertainment by the Afro-Brazilian dance group Capoeira Luanda.