This content has been archived. It may no longer be relevant
Cieply takes a 2015 1LE SS and a 2016 2SS for a spin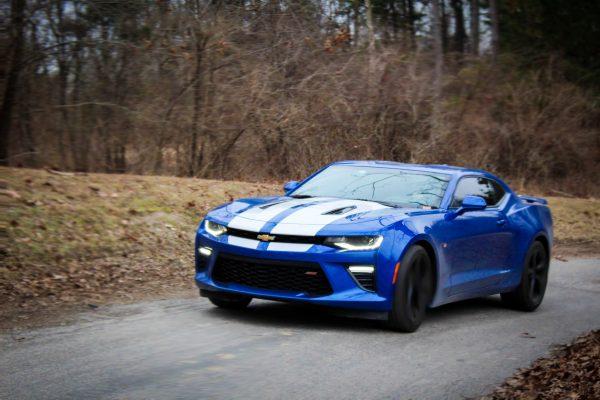 Contrary to popular belief, the Coney dog is not from Coney Island in New York. It is actually a Detroit delicacy. It's a meal that fits in the palm of your hand. Stuffed with meat, it can be characterized as a working man's lunch.
When Detroit was filled with working men, a city booming with steel, rubber, and meat, a similarly delectable Detroit delicacy was born — the Camaro. It was affordable with uncivilized speed. The Chevrolet Camaro SS cost the 2016 equivalent of $21,500 in 1967. It had a huge V8. It was loud. It had hardly any safety features. In short, it was characteristic of Detroit. Every high schooler wanted one, only a few had them.
Being able to drive one was almost as cool as owning one. Being able to control 423-horses was a manly thing to do. Even today, with so many modern features, the Camaro will make you feel excited, capable, and maybe a little reckless.
The Camaro long held the reputation of being a loutish, obese, and uncouth vehicle. However, the 2015 SS 1 LE and 2016 2SS are no longer deserving of such a reputation. They show what the Camaro is really capable of and what it was intended to be when it first debuted in 1967 — a sports car.
I had the pleasure to test drive both a 5th and 6th generation, each an SS variant, through the back roads of the Elsah-Grafton area.
The Camaro SS 1LE 5th generation is a little known gem in the car world. In the front, it has a 6.2 liter LS3 engine with 430 hp at 5,900 RPM and 420 lb/ft of torque at 4,900 RPM, and a 6,600 RPM redline. This power plant transfers its 430 horses to the rear wheels via a 6 speed manual with short-throw shifter. Its gearing is also slightly different and is designed with performance in mind. At the back, it has high capacity axle shafts for more traction with higher power figures. The soft compound tires that come on the car are also designed for racing, though the tires do benefit from a warm up.
That all sounds well and good but is it actually? In short, yes.
It is important at this moment to remember the adage about square pegs and round holes. The Camaro 1LE is is a square car, and it does not fit into any preconceived notions about Camaros, muscle cars, or cars. It is voracious. It feels ready to insufflate each line of road after road.
The track preparation Chevy chooses is evident in every bump, but also in the amazing amount of grip. Muscle cars have developed a reputation for not being good at much except crashing. This Camaro disproves that with a counterintuitively grippy tires and stable chassis.
The 2016 2SS is quite a different animal, and even though it has undergone a Weight Watchers program and gained some muscle in the form of 455 hp, it does not feel as monstrous.
The 2SS has an 8 speed automatic transmission, magnetic ride control, three performance settings for throttle response, suspension, traction control, and Chevrolet's Stabiltrak. These systems all work together to keep you on the path you intend. Turn them off, and all you can do is hope you are a good enough driver.
These systems are less noticeable in the 1LE. There is no point in looking anywhere except forward in either the 2SS or the 1LE, partially because the visibility is about the same as trying to look through a blindfold, with salt water in your eyes, hanging upside down in a dark cave. But also because both are rockets. It would be unwise to look anywhere except ahead.
The 1LE scarfs down corners. Turn-in is immediate and direct, and throttle response is instant as you mash it out of the exit and onto the next one. This handling is astounding considering the fact that the 1LE weighs about as much as a young elephant. The fact that it can handle is also evidence that the muscle car is dead.
Ever since the big three — the Challenger, Camaro, and Mustang became available with systems that shut off certain cylinders, or turbocharged 4 cylinders, muscles cars have become less about brute strength and burning tires. They now pursue efficiency and handling.
The biggest problem with the Camaro is how easy the speed is. Cruising at 60 feels slow. The acceleration throughout the rev-range is addictive. The exhaust of the 1LE helps give it a more visceral feeling than the exhaust of the 2SS. There are many more pops and cracks when downshifting in the 1LE. The 2SS is just more tame.
Both drives are not tiring or exasperating. I am particularly surprised that even though the 1LE is a bit bouncy, it is never terribly tiresome. Of course the magnetically controlled ride of the 2SS is incredibly capable. It instantly changes depending on the mode — Touring, Sport, or Track. In touring, the car glides over even the bumpiest roads. In track, it seems to start flexing its muscles, becoming tense and reactive.
Even though the 2SS shows itself to be a capable car, there is still the issue of the 8 speed auto — the throttle response. When you kick it, it growls, but there is a delay before it attacks.
That being said, the power is available when you want it. The manual just has a slightly quicker response. In order to use the paddles, you can simply click the up-shift. However, at that point the car is not really in manual mode. You have to select the manual mode with the gear selector in order to get the fastest and most responsive shifts. Until you really thrash it in automatic mode, the transmission is programmed to be pretty economical even in track mode. In the true manual mode, its shifts are lightning quick, and it lets you pick whatever gear you want.
Ultimately these two cars are very different. The 2SS is the everyday sports car, the really chill friend who lifts a lot, but you wouldn't know until they punch someone's face out the back of their head.
The 1LE is that friend who runs everywhere, has no concept of an "indoor voice," and wears shorts in winter. The 1LE is actually a lot like a pair of shorts. Very useful in summer, practical for sports, fun to use, but terrible in winter or at a black tie event.
The important thing is that they are both friendly. Maybe the pure sensation doesn't come initially, but when you get to understand them, and their purpose, you realize they are fun cars to drive.
Special thanks to Eddie and Brody