This content has been archived. It may no longer be relevant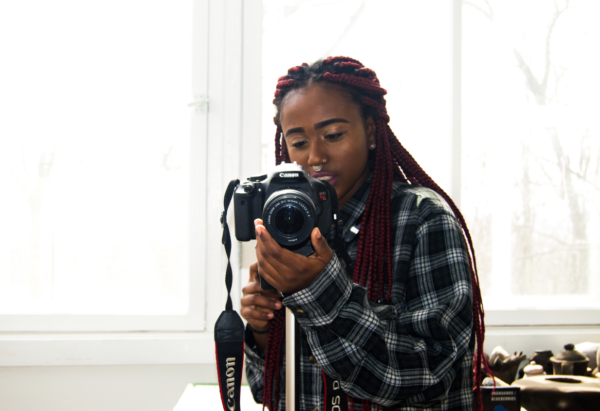 Zoe Mahler
Zeke Ouellette
Staff Reporeter
"All you need is a camera and the Internet to write your own story." These are the wise words of American YouTube personality, Casey Neistadt, in one of his most recent YouTube videos.
But why stop at a simple story when the tools for making videos can do so much more?
For Principia College senior and Botswana native, Taffiny Kablay, story isn't just a resource for entertainment. It acts as the pivotal utensil for social change and awareness. "Everything you own is a tool for you to share what you have to say," she says. This is the motto she lives by when integrating her beliefs and willingness to create social change with her technical and artistic gifts using a video camera.
Like many young adults, Kablay makes YouTube videos. Though, hers are not the clichéd ones where she reacts to random Internet videos or gossips about the latest celebrity news. Instead, she takes a social spin on topical themes and lessons she has meticulously planned for use.
"With my YouTube channel, I prefer to do videos on bisexual awareness, on voting, awareness about my country and black rights," she says. "This all correlates with my Twitter as well, and I'm pretty much a supporter of everything."
Viewers of her videos understand the impact of the messages she puts out there. Videos she has created range widely in context and content, yet all possess equal weight in social values.
Of course, these subjects can be extremely heavy for many. Political issues related to the presidential election of 2016 have caused many Americans to question the legitimacy of their government and media system. At a time when relationships are most frail, Kablay steps into the fray to deliver the messages that are most important for people to not only hear, but to understand.
"I don't have anything specific I want people to learn, because I talk about so many different things," Kablay says, "but I want people to know that there is someone out there who feels just the same as you, and they should know that they are not crazy despite whatever someone may tell them."
To keep things educational, yet lighthearted, Kablay uses various forms of YouTube entertainment techniques to teach others the social values they should be more aware of. Between teaching her friend, Kai Patterson, how to speak her native language and displaying a slam poem supporting women's rights, a video which has pocketed approximately 46,000 views, Kablay has established a home on YouTube where she feels most comfortable in expressing her passions.
"Video has everything you can ask for," she says. "It is so engaging as a platform that YouTube has become the best place to get people's attention."
Attention means everything in the click-centered world the Internet breeds. Multiple studies find the people's attention spans in videos only lasts around five-seconds. This is the fatal bump in the road which prevents even more people from creating and sharing original content. However, the value Kablay sees in what she is creating outweigh the costs of energy spent and low potential of people viewing. "The time and effort it takes to make videos Is difficult," she says. "I also have to be more creative with my thought because of how much time it takes. But I understand the importance of the messages I'm putting out there."
For Kablay, YouTube is her source of choice for projecting social messages in an effort to create palpable change. But other methods and mediums can capture messages and enforce change in a multitude of ways.
This is the pivotal question students running this year's Public Affairs Conference (PAC), the longest running student-led conference in the nation, aim to tackle through a three-day-long conference involving some of the world's most important speakers on this crucial subject.
PAC Directors Annika Erickson and Meredith Hamilton came to a consensus that the theme of the conference produces a variety of methods in how media affects social change. "Instead of trying to choose one social issue, we decided to broaden it and decide how we can be changemakers in the issues we do care about," Erickson says.
Hamilton adds, "As millennials, our engagement with media is directly engaged with our passions. People can use their versions of media to spearhead those issues they care about. We need those people in our society and community; people who are passionate about their purpose."
For these directors, purpose means everything. Their lives are constantly consumed with the media messages spread by their friends and the need for their board to be in constant communication with them. It's a constant battle to keep everyone's desires in check, even at the task-by-task level, let alone taking concepts that are viewed as difficult societal issues and to discuss them on a public platform.
"You can't wear multiple masks on one public profile," Erickson says. "People who use social media need to have a clear sense of purpose for why they are using it or putting out certain messages."
As for what this year's conference promises to bring, students attending it should expect a lot of variety in coordination with the various amounts of mediums and platforms available for people to institute social change on the Internet. "Having a panel addressing many different viewpoints is a great way to create discussion and have people really think about the things they publish online," Hamilton says.
However, there still needs to be an institutional awareness of the way people consume media online, which usually comes from a filtered source, meaning it is posted by other people you have a relationship with on your social media account.
"Our speakers have used media for global social change in many different ways," Erickson says. "So we want people to walk away with the awareness of how they consume media and why they choose to produce the content that they do."
In the coming weeks, PAC aims to produce one of the more memorable conferences in recent years via a topic applicable to everyone in the 21st Century. Kablay's story and sense of purpose is proof that no matter the extent of reach, nothing is too insignificant to let one's voice be heard.
"You can use media as an amazing tool for social awareness," Kablay says. "When you see injustice you can now document it and have the proof against it immediately, promoting the best cause for change."
Image courtesy of Zoe Mahler