This content has been archived. It may no longer be relevant
Cowboys and prostitutes. Dolls and swans, or perhaps ducks. Kids in a candy shop and martial arts masters. There's only one place to find it all: Principia College's own Cox Auditorium.
Winter Dance Production is an old tradition at Principia, but it's changed significantly over the years. According to Junior Kanoe Wagner, Dance Production was once an opportunity for students in Ballet III to display their talent. Over the years, the show has gradually expanded to incorporate a wide range of abilities. This year's show features 16 dances, each showcasing distinct dance styles and stories.
With 54 student dancers involved, there's a huge amount of talent to draw upon. While some dancers have taken classes since preschool, others have little or no formal training. There's something for everyone in this year's show, with every genre represented from tap to krump.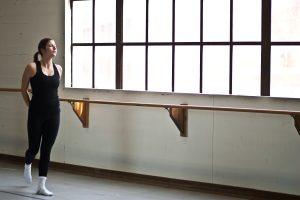 In fact, the one thing these pieces seem to have in common is the level of commitment each group brings to the choreography. Director Hilary Harper-Wilcoxen said: "It's not just a class that they have to take. And so they bring, naturally, a desire and enthusiasm, a commitment to the hard work [involved]." She added: "It's [about] what you put into it. Dance Production is no more magical than anything [else]. It just opens up possibilities for dancers."
While most participants don't know the intricacies of every dance style, they certainly respect the work that goes into each piece. In the first Saturday rehearsal in Cox Auditorium, I sat with two friends performing in the show. Both of them exclaimed at different moments that this was their favorite moment in the choreography, or that I should pay special attention to this or that cool part. As dancers came offstage, smiling and a little out of breath, someone was always there to meet them with enthusiastic praise.
And there certainly are a number of praise-worthy pieces in this show.
Seniors Ali Vice and Catherine Speer's tango piece tells the story of three prostitutes and their relationships with various clients. According to Speer, the story deals with "something a lot of people avoid or look down upon or are scared of." Speer added that it's been nice to work on this piece with another person, especially because she and Vice both had the experience of choreographing in last year's show.
Senior Kirsty Rivett's charming piece about kids in a candy shop is guaranteed to put a smile on anyone's face. And audience members with a sweet tooth will definitely want one of the giant lollipops used onstage.
Junior Jay Amuka's hip-hop duet sends a powerful message about betrayal and lost love. This piece's simple staging is incredibly effective.
This year, Wagner will perform an excerpt from Antony Tudor's Jardin Aux Lilas, or Lilac Garden. Principia is the first college to have that special privilege. According to Wagner, "[The] whole experience has been amazing because it just pushes me so much in the technique of my dancing … I really love Antony Tudor's work and so I want to do it well."
Just as each student is invested in the success of his or her performance, everyone seems proud to be part of a great show overall.
Speer said she had the opportunity to help a friend audition a piece in the fall and is excited to see how the dance has progressed since that time. "When you see everyone's pieces, you just get so giddy with excitement."
It's obvious that this show is built on encouragement and admiration. This kind of support is often evident between dancers working on the same piece. At the beginning of the quarter, each student choreographer handpicked dancers who would best capture the spirit behind the steps and work well together.
Teamwork and commitment are essential. Each dance requires two hours of practice a week, and each dancer is required to take a technical class, whether he or she is in one dance or the maximum four.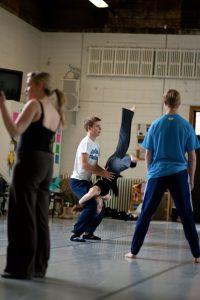 Senior Jodi Pratt said: "I chose [my dancers] not just because they could dance it the most beautifully. I chose them because I knew that the group would just mesh well together and that I would be able to work with them." Pratt added that her cast of six often finds time to connect after rehearsals, so that every moment they spend together isn't dedicated to perfecting choreography.
Sophomore Natalie Davenport's cast of 15 is the largest in the show, but her dance—a "fusion" of salsa and hip-hop—was originally designed for eight. She explained: "The more I explored it and sought out advice from people who have choreographed before and [from] Hilary, of course, [and with] the people who auditioned—it just seemed like the right number. And it was really not about the number as much as the people [involved]."
Harper-Wilcoxen also spoke to the importance of relationships choreographers have with their casts. "It's not just my vision, it's about your dancers, what looks good on them, what can they do, where can you push them, where you have to pull back."
While all this preparation is a learning experience in terms of working with a team and improving technique, Dance Production is also an opportunity for spiritual growth and practice.
Weekly Saturday rehearsals always begin with a full-cast metaphysical meeting. This is a time for performers to share spiritual inspiration and keep thought elevated.
According to Wagner: "Last week in rehearsal, one of the dancers fell and was obviously struggling and in pain. … Everybody else in the room was just immediately praying. Everyone was just quiet, heads down. And in any other environment that might look funny, but it was just so natural."
Wagner seemed to appreciate this kind of group response.
Wagner continued: "The idea came to me that, 'Kanoe, this is why you dance—to show that man is not limited.' To me, I think that's the biggest thing that I get from Dance Prod. I love that it sort of strips away…competition or just stress and it's really like, 'Okay, let's not take ourselves too seriously. Let's see why we're doing this.'"
Sophomore Vincent Herr, a first-time Dance Prod participant, seems to understand the true meaning behind performing. He said: "We don't go on stage to show off. We just really want to have a good time and just pretty much show our qualities and God's qualities."
Winter Dance Production starts Thursday, February 24 and runs through Saturday, February 26. There is an 8 PM show every day, as well as a 2 PM matinee on Saturday. Tickets are $7 for students, $10 for everyone else, and can be purchased at the Info Booth in the Concourse or in the Cox Auditorium lobby.