This content has been archived. It may no longer be relevant
Tucked away on the outskirts of campus beyond Sylvester is a theme house that often transforms to meet the needs of the Principia student body. Williams is now the Creative Living house: a home for creative thought in which a group of students have committed to sustainable living, independent cooking, artistic expression, and an overall creative lifestyle.
Senior Janet Irvine, President of the Creative Living house, said that when she heard Williams was available, she knew it would be a great venue to "help us help each other" explore creativity.
Senior Tabea Mangelsdorf said students living in the house focus on sustainable living and cooking organic food. Mangelsdorf also said that it is a house for artists who want the space to write songs or make art in a creatively encouraging environment. "Often artists procrastinate, so we help each other not fall for that procrastination." She said that the Creative Living house is all about "not falling into patterns or following fear blindly; it's about switching things up and staying attuned, giving spice and purpose to our lives."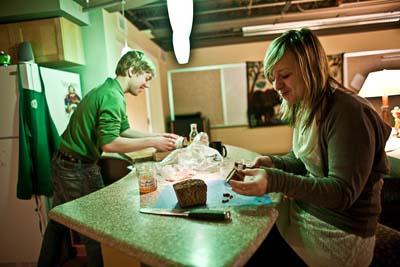 Benjamin Chernivsky / photo
So how does one just decide to be creative one day? The members of the Creative Living house recognize that a change of location within the campus cannot magically inspire individuals. That's why they designated certain people in the house to have jobs. For example, the "songbird" sings the house to sleep, the morning head sends wake up calls, and the outdoor head organizes snowball fights. There's even a surprise head; who knows what they could be planning?
Every two weeks the members of the Creative Living house hold a dinner for which they concoct organic dishes and incorporate international foods. Every other Saturday at 11 a.m. they will hold workshops on different topics such as knitting, beat boxing, acting, songwriting, salsa dancing, or anything else that may strike their fancy.
Mangelsdorf also spoke about more serious topics like the budget and practicality of maintaining this sort of lifestyle. She said they have a unique meal plan in which a certain amount is subtracted from each student's meal card and given back in the form of checks that they use at Whole Foods, local farms, and organic providers. Mangelsdorf said, "There's lots of cooking going on here!"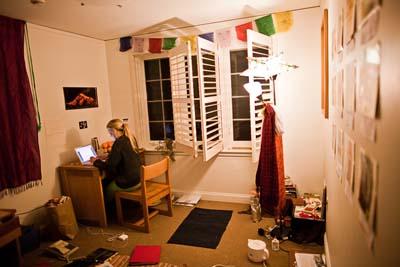 Benjamin Chernivsky / photo
Dan Schneider, the house faculty sponsor, said that Williams must be used because of the lack of housing on campus. When education majors are not using it for housing, it is a "great venue for creative experience." The overall feeling of the house is one of incredible freedom because the format, schedule, or approach can change at any time, thus encouraging a real sense of openness to the campus.
Schneider suggested that the students document their creative activity to measure the success of the Creative Living experiment. New sorts of thinking, ideas, or just switching up everyday life in large and small ways could all be added into this log of expansive possibilities. Schneider said, "Heck, they could even just say that they took a new route to class today!"