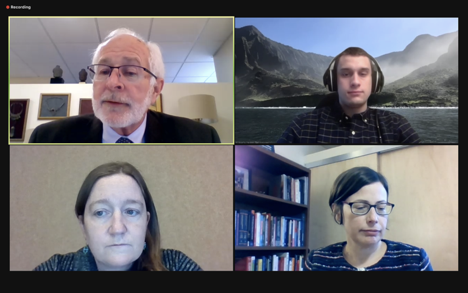 By Quinn Heinbaugh
As the new semester rapidly approaches, College President John Williams, Dean of Students Maya Dietz, and Dean of Academics Megan Madden along with Student Body Vice President Elliott Matthiesen spoke to the community in a virtual Town Hall meeting yesterday, Jan. 15. Attendees were met with information about what to expect this spring and what steps would be taken to prevent an outbreak of COVID-19 on campus.
For students flying into St. Louis, there will be shuttles from the airport to the College campus. If you are interested in more information or want to sign up, check "The Bluffs" Facebook group or reach out to Elliott Matthiesen or Sarah Ungerleider.
According to President Williams, COVID-19 infection rates in Jersey County have been minimal which enables Principia to start classes on Jan. 25. Furthermore, Principia will have a spring break from March 14 to March 21. President Williams encourages all students to spend that time recovering from the first part of the semester and to take time off campus if possible.
The College will be in "Red Phase" for a week following the conclusion of winter break and again after spring break. After Red Phase ends, Principia will move into "Orange Phase" for a week. From there, Principia will transition into "Yellow Phase" and will stay in Yellow Phase until spring break ends. For more information on what each of these phases looks like, click the link at the bottom of the article or contact your resident counselor.
As for Principia Athletics, Principia men's and women's basketball, along with rugby, will not be having seasons due to their classification as high-risk sports in regard to COVID-19 transmission. The baseball team will be unable to field a team because not enough players will be studying in-person this semester. Men's and women's soccer, softball, swim and dive, and track and field teams will all be training in anticipation of their seasons.
Dean Madden expressed gratitude for Carol Burbee's support as interim assistant academic dean. After today, Dean Madden will be assuming the responsibilities for this post until it is filled.
Dean Madden reports that Principia College currently plans to have 252 students living on campus, as well as 11 day students. 41 students will be participating exclusively in remote learning. Some Principia international students who aren't currently in the U.S. are having trouble gaining the required visas necessary to enter the country. These international students are able to register for online courses.
Admissions Director Brett Grimmer announced the development of the new Principia phone app. Student groups have been testing the app, and it should be ready to download soon.
Though details haven't been solidified, the plan is to hold Commencement for the graduating 2020 and 2021 classes on May 16. It is not known what the ceremony will look like, but all attendees will have to register in advance for the administration to get a better idea of how many people will be attending. There will be no expense to register.
In response to the recent unrest in Washington D.C., President Williams referred to a response Mary Baker Eddy made to the Boston Post when asked about her political preference: "I have none, in reality, other than to help support a righteous government; to love God supremely, and my neighbor as myself."
Featured photo courtesy of Dana Cadey; screenshot courtesy of Quinn Heinbaugh.
Image courtesy of Quinn Heinbaugh