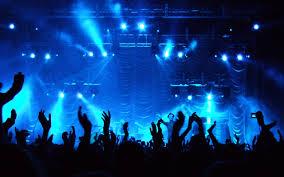 Many of the awesome moments in people's lives happen at concerts. If you have not been to a concert, or if you simply have no clue what to expect at your next concert, keep reading. It being soccer season, I will explain everything with soccer analogies.
First off, there is the pregame pep talk. The first thing you must do is research the artist. You don't want to be that person who doesn't know any of the lyrics. Some of the most fun can be found when the whole crowd knows the song and sings in unison. If you're going to see a favorite artist, you need to know the artist and their music. Otherwise, the whole experience is pointless.
The next step – which is sometimes overlooked – is to check your phone's memory. You'll need it to take photos and videos of Taylor Swift's serenades. You'll want it to document the moment when Timeflies touches your hand so that you can show it to your mother, neighbors and second cousin's dog.
The last part of the pregame talk is to know where you're is going. Do not put your trust in Apple Maps getting you to the concert without going through East St. Louis. Planning the route ahead of time will lead to arrival in time for the first half.
Actually, you probably want to get there early. Depending on how famous the artist is, there might not be assigned seating. Earlier arrivals will guarantee first row action.
Depending on your age, you might have to pay a cover charge. This usually applies to those under 21. Make sure to have at least $5 for the cover charge. If first row status is obtained, hold ground. There will be 16-year-old girls elbowing their way to the front, and it might be necessary to defend your position like the front lines of battle.
Unless the plan is to go to a huge amphitheater for a concert, be prepared to stand all night. This means not skipping leg day at the gym. Be warned: no one likes hearing complaints during a concert.
One tip to take into account upon arriving at the concert is to look for "the tall guy." The last thing you want is to pay for a concert and get stuck behind the starting center for some basketball team. There are other elements that should be taken into consideration: depending on what type of concert you're going to, you might have to move around a lot because "the smelly guy" or "the sweaty guy" might get a little too close. Keep your head up and rage on.
Getting into the second half of this concert game is the post-show process. Most artists love interacting with their fans. This means that there will be a meet-and-greet after the show. If you're still holding down the fort in the first row, dip out right after the last song. Odds are that the crowd will start a "one more song" chant. This will give you time enough to get to the merchandise booth, where the artist will post up after the show. Once they show up, it's time to Instagram and hashtag the night away.
At the end of the night, though, make sure that you had fun and made memories with friends. Concerts are a lot of fun, but only as much as you make it. Don't be afraid to go nuts, dance and make a fool of yourself.