This content has been archived. It may no longer be relevant
A concern on this campus lately has been CSO attendance. Although the Org Service on Tuesday of Week Two was packed, there seems to be a feeling that attendance is not what is should be. After talking to students and the president of the CSO, it seems that these concerns should be seen in a proper perspective.
The current CSO President, junior Grace Hathaway, said that numbers should not be considered a defining feature of church because "when we start numbering people we start putting truly unnecessary material constraints on a church and how it functions." Hathaway also said that she is "grateful that people do come to Org and that working from that forward is what will help us more than worrying and analyzing why some people don't feel that they want to come to church."
Sophomores Andy Furbush and Carolyn Vernon share this opinion. Furbush, who is the Buck House Meta-Head, said that what makes Org services special is the sense of community there. Furbush said this feeling is created because we know the readers, and students are encouraged to feel included in the church community. Furbush said: "At home, we had a [church] auditorium that fit about 750-800 members. However, we only have about 80 regular members. No one would sit together in this church. Eventually we ended up moving locations, and now have an auditorium that fits about 100. People sit closer together and there is a sense of community there." Furbush compared his branch church to Prin in that we've also fostered a sense of community that is not necessarily affected by numbers.
Vernon said that "religion is a complete and utter choice and we should not be forced to go to Org." She added: "I do love the sense of community at Prin, and being able to see our peers at services is special." Sophomore and Brooks House Meta-Head Shelby Lemons had a slightly differing opinion on CSO attendance and what it means to her. According to Lemons: "I do think attendance is important because that's where the sense of community that we have comes in. You know, if no one's there, it makes you wonder why we are here at a college that [exists] to further the cause of Christian Science. I think that attending Church is really important to show that you are supporting that idea."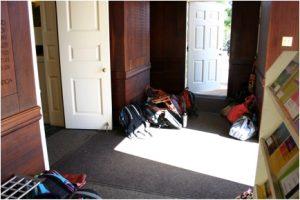 Each of these students regularly attends CSO services, and they all have similar reasons for doing so. Hathaway explained that: "church plays an important role in a person's life and how they can really give something beautiful to the world and I think CSO plays that role on campus." Furbush said that he attends both Tuesday Org and Sunday church services because they are "convenient, and [are] what we have for church. Furbush added: "Its purpose is aligned with Prin, and that is to further the cause of Christian Science." Vernon's reasoning was close to Furbush's in that she said she attends because, "I am always wanting to learn more and this can be accomplished by listening to people reading the lesson … or at testimony meetings, because hearing someone else's perspective on what I read every day helps me to gain new insight and inspiration." Lemons added: "Personally, it uplifts my mood that day and the whole week, and I learn so much from hearing about others' demonstrations and testimonies, and it is so important for all of us to come together in a Christian Science environment."
The opposite view was expressed by a student who wished to remain anonymous. According to this student: "I don't go [to CSO] when I don't have to because I am either sleeping or doing homework or doing work on my own. I do go when I have to for sports." It seems this student is not alone in her reasoning. Although not a regular attendee, she did not think that the number of CSO participants needs to be increased. She said that, "people that go to Org are the ones who go because they need to be inspired or want to be inspired, and we should focus on those people, we shouldn't force people to go."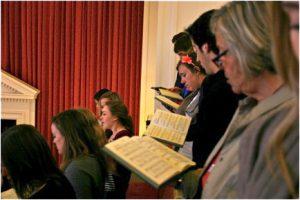 Rackham Resident Counselor Geoff Hinchman expressed an interesting view on CSO attendance. He explained that because students do not actually pay full tuition because of scholarships or generous donations from alumni, there might be a sense of obligation to attend CSO services. Hinchman said: "One conversation that came up in our house is, 'What would the alumni, the people giving financial support to the school, [think about students and CSO attendance?']" He added: "Some probably hope [that students will go to all of the services] and some probably understand [that students do not make services a priority]…but there is question about whether or not there is a sense of obligation to attend." Hinchman was wary of making generalizations about the alumni, but said he thought they hoped that "students are learning to make the choice to attend." He also emphasized the fact that students should be exposed to these services now, and that we have to help make sure that they have the information they need for the future.
Although there is some concern about numbers, it seems that attendance is being addressed through metaphysical thought and that the CSO is focusing, as Furbush put it, on quality, not quantity.