This content has been archived. It may no longer be relevant
Devon Izmirian and Gemma Ritchie
Staff Reporters
The 2017 Public Affairs Conference outdid themselves, receiving praise for other-wordly professionalism by all nine speakers. PAC brought in leaders from across the media spectrum to talk about "Media as a Tool for Social Change," to share their expertise in everything from non-profits to the Christian Science Monitor to Google.
Shiza Shahid, cofounder of the Malala Fund and socially-minded venture capitalist, called listeners to act on their passions and local knowledge to address the issues "in their own backyard." Many in the audience thought her extraordinary, but she emphasized that she had grown up as an ordinary Pakistani girl; proof that anyone can make an impact in the lives of others as long as "you do something that matters."
Friday was bursting with six lectures, beginning with Hollie Stenson early that morning. Founder of WOOMIR, Stenson explained how businesses and individuals alike can use stories to change and humanize movements and products. Her main message revolved around the power and responsibility of consumers to show businesses the worth of the Three Bottom Lines: caring for profit, people, and planet.
Campus quiet time was dedicated to discussing the dangers of visible virtue (a.k.a. false martyrdom) with Tanner Johnsrud, practitioner and lecturer.
After lunch, the conference continued with the fiery Liz Plank in her distinctive leather jacket and purple boots. Senior producer and correspondent at Vox.com, Plank had a fireside chat with Maddi Demaree. The two discussed Plank's unconventional journey from activism into journalism, her video work at Vox, the value of subjectivity, and fake news.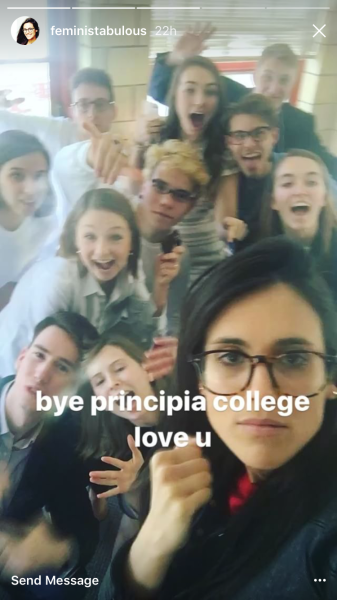 Author Allison Fine spoke about the consequences of having "fortress-like" organizational systems. The old system of rigid rules and insider-vs-outsider mentality alienates volunteers and donors. To encourage continued engagement, nonprofits should become more like networks, pursuing relationships and letting people support by doing what they're best at.
"There isn't anyone you couldn't learn to love once you've heard their story," is a quote Katie Gordon uses to open up her talk. An alumni of InterFaith Youth Corps, Gordon spoke on the importance of both interfaith cooperation and media representation. She asked us to demand the same journalistic rigor for stories of triumphant group work as we do for stories of gore and tragedy.
Keynote speaker Kevin Adler did not leave a dry eye at the close of Friday's talks. His organization's mission is a natural tear-jerker; Miracle Messages seeks to reunite a million homeless people with their loved ones by 2021. He taught us that homelessness is less about houses and more about the loss of a social support structure, giving practical advice on how to tackle the problem in our own communities. However, the heart of the lecture was his conviction in humanity, saying, "Everyone is somebody's somebody." His extreme and personal audience interaction has surely won him lifelong fans.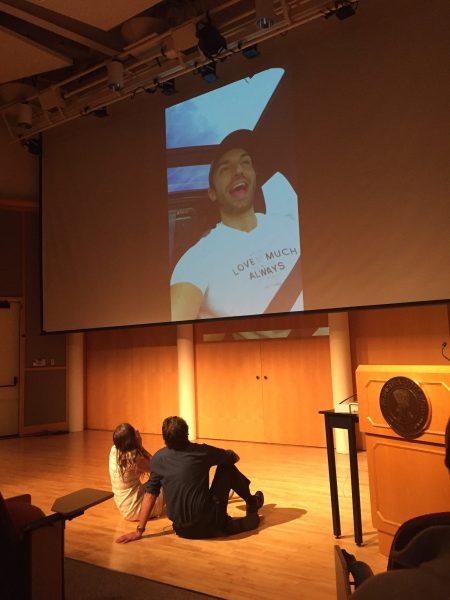 The talks closed on Saturday with two Principia Alumni. Christa Case Bryant, editor for politics at the Christian Science Monitor, spoke about her time in Jerusalem to bring life to the idea that we must seek out contradictory viewpoints in order to engage those with different beliefs. People aren't willing to compromise when they feel demonized. Empathy and source awareness will not only make us better people and debaters, it will also encourage news organizations to handle issues in the complex ways they deserve.
Anthea Watson Strong, now a product manager at Facebook, tackled widespread apathy and ignorance by explaining the research she did as a program manager at Google. By organizing detailed local voting information across the world, her team sought to reach out to the "interested bystander," the civically inactive but interested people who only need information and reassurance that they matter.
Every lecture shared the idea that media is a fantastic facilitator, but not a replacement for genuine relationships, whether built online or on land. They know that we can challenge political, economic, and news systems alike by acknowledging the power we wield with every click. Individuals can make a difference, so long as we approach problems with open minds in ways that utilize our natural passions.
"My greatest takeaway was "time as being the main and only commodity,"" freshman Rudolf Meyer summarized, "After you hear those talks you figure what is the most important thing in life, truly – the invaluable opportunity to make a difference in the world. We don't have to make something really huge do you have a big impact."
Images courtesy of and Devon Izmirian