This content has been archived. It may no longer be relevant
At the beginning of this semester, Campus Security sent out an email reminding students, faculty and staff that Principia operates under a set of rules which must be followed. One part clearly stated: "We have become aware of excessive speeding, so we will continue to use our radar gun to issue tickets in an attempt to keep the community safe. On-campus stop signs are to be treated the same as off-campus stop signs, so rolling stops or no stops will be ticketed."
While not every student and faculty or staff member on campus was aware of this email, a number have been ticketed several times over the last few weeks. Rumors about this new wave of ticketing spread quickly. Because there is a great deal of circulating gossip about Campus Security, it seems important to take a closer look into how this office is run.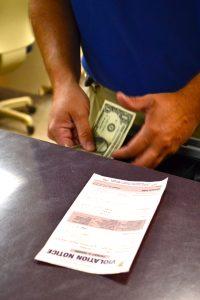 Bryan White, head of Campus Security, said of the department's purpose: "[Our main job is] to uphold the rule of law and to be a vehicle to make sure that everybody on this campus is safe." He then added that this campus – like any other – has rules which are important in upholding our safety and standards. "[This campus] is not just an open door to anybody to sell drugs, it's not an open door to anybody that just wants to party. It's just not an open door here. It is an open campus […] but there are restrictions."
In examining the increased activity of Campus Security these last few weeks, Mark Mackintosh, a Campus Security employee, provided some context: "There is a difference in who is running the department now. We are not the same staff by any means that we were a year ago at this time. We've changed our uniform, we've changed our appearance, we've got the Elsah police department that we've brought in to help us clean up a lot of stuff that has just been overlooked. […] We were starting to have thefts left and right last year, we were starting to have a problem with alcohol and drugs on the campus."
Addressing current rumors, Mackintosh added: "We don't have any set quota [for tickets]. We don't make our guys do the tickets. They're really following the rules out of the book." […]. He added, "I don't think that we are doing it to punish anybody. We're not out to make a profit, because that's not the case at all. That's one thing I hope everybody realizes, because that's not the direction we are going in."
But the whole issue of on-campus safety is complicated when students, faculty, or staff members feel treated inappropriately. A few weeks ago, Stephanie Young, a staff member in the Office of Student Life, had an encounter with Campus Security after she had not completely stopped at a "STOP" sign. As she was only driving to the gym on campus, Young did not have her ID or driver's license with her.
Young explains: "Then [the officer] said: 'Who are you, then?' That just really took me back. I have been on this campus for almost ten years as a student and now as a staff member. I know [that officer] […] and he did not […] trust who I was. It was just really abrupt. It was not this loving community that I am used to." The situation was finally resolved after Young's husband, Chris, a philosophy professor, appeared on the scene to bring Stephanie's license. Nevertheless, Young felt she was treated inappropriately, in part because she was not allowed to continue her drive on this private campus.
Young decided to talk to Bryan White about this incident. "He was very apologetic. He said he doesn't want the community to feel this way towards [Campus Security]. It bothered him that I had that experience."
Reflecting on this whole story, Young told the Pilot: "I feel that real harmony within our community can only happen when we're constantly striving to make decisions based on love rather than fear." She added: "[I know that Campus Security is] trying to do good, but I think that we all just need to communicate more on how we can work together to keep our campus safe while maintaining a loving and supportive community."
In response to this story, White explained: "[T]he officers are having to learn how to work with the campus, how to work with students, how to work with faculty and staff, how to talk. Instead of being authoritative, there are other ways of talking. We're all in the learning process. […] It's not going to be perfect on the first day, on the first week. It's going to take just a little time, and we hope that the campus gives us that time."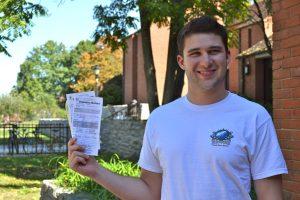 Will Pappas, a senior and first reader for the CSO, received four tickets during the first few weeks of the semester. He got two of them while working as an ambassador during a recent visiting weekend. While Pappas seems to understand the logic in giving out tickets, he also said he thinks the approach could be a little gentler: "I understand that when you have laws, that they need to be enforced. […] But I also think that Principia is a unique community, and I think there could be a little more level of understanding, especially with the semester transitions. That went really crazy. [One way of handling violations differently would be to] issue more warnings before the tickets. Because I have never gotten a warning yet, just a ticket. […] If I got a couple of warnings, I would not do that anymore."
Student Body President Christian Richardson is well aware of the situation. Having met with Campus Security lately, Richardson said: "[There] are a lot of good people in Campus Security. They are doing good work. It's good, honest work. They are not trying to attack anyone. And they're very willing to help." Like Young, Richardson also sees a lack of communication as problematic: "Campus Security has not been extremely clear with everyone what changes have been made, but community members don't take initiative and find out what the rules are. So, it goes both ways."
Louise Kingsbery, the RC in Brooks House, says she agrees with the need for clearer discourse. She explained her thoughts in a recent email: "I honestly think the challenges that seem to have surfaced between campus security and the Principia community are only one aspect of a larger issue that attempts to permeate most areas on campus, that of clear communication."