This content has been archived. It may no longer be relevant
Gulp. Gulp. Gulp. The sounds in Wanamaker Hall after Career Conference speaker and job expert Don Asher announced that most employers expect college grads to have at least one (if not two) internships under their belts before heading into professional interviews. Dozens of gulps in an otherwise quiet room – the sound of seasoned and terrified camp counselors.
Principia is probably the only college in the United States that can boast "camp counselor" as the most popular summer job for the student body. Here it's almost assumed that students have some type of camp experience, and it's never offensive to ask even the most talented and driven individuals if they will spend their summers planning arts 'n crafts or playing dodgeball with fifth graders.
We should all be pretty aware that offering certain facts about our school to outsiders elicits some pretty weirded-out responses. Not news. But is the camp quirk just odd, or is it harmful to our students?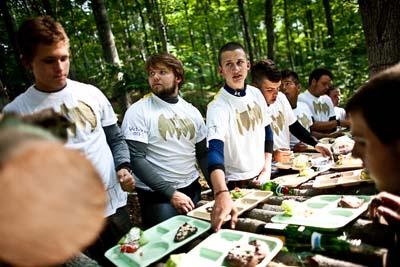 First, let's consider why so many students go to camp year after year. The most probable answer from campers and counselors alike: camp is awesome! Seriously now, the validity of the argument is certainly subjective, but hoards of people just plain like camp, so of course they will return. There is also the "giving back" force behind camp. Most of us know how hard it is to be a lone Christian Scientist in a school or community. So, it is natural for most CS kids to have some camp experience in their lives. If it was a positive summer, or a positive bunch of summers, it starts to become almost a moral obligation to return to camp and help support an institution that once supported the now counselor.
Camp is also not an opportunity that lasts forever. Perhaps all opportunities are fleeting, but the way I personally have seen my decision to go to camp summer after summer usually stems from the knowledge that I probably won't be able to take ten weeks off to goof off with kids in a couple years. Of course, there are numerous other reasons to be a counselor: a place to stay, family at camp, scholarship opportunities, etc., but no matter what the reason, it helps when no one in our environment thinks going to camp is strange or juvenile.
So, let's get back to the original question: is all this camp harming our futures, especially in the job world? Sophomore Bekah Charlston has had contrasting summer jobs in the past two years: a camp counselor for middle schoolers at Newfound, in Maine, and a desk job at the Mary Baker Eddy Library. Aside from their Christian Science basis, the jobs don't appear to have much in common. However, Charlston said that camp helped her develop the skills she needed for her "more adult" job: "time management, organization, responsibility, and integrity." But, she did mention that professional elements of working at camp, like the interview process, do not allow students to flex their career muscles as much as internships or even crummy summer food service jobs might, because "you usually know the people hiring you."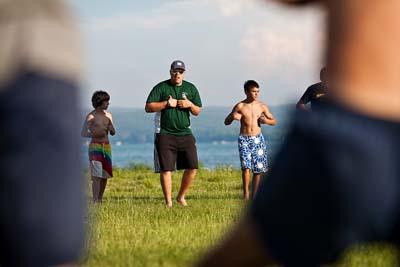 Katie Duntley, a graduating senior (and a soon-to-be five-time camp counselor), agreed with Charlston's ideas: "It's a little of both … sometimes I feel a little insecure going into job interviews because camp only counts as one type of job experience, even though I've been there for years and have had a huge variety of experiences … but I know that I have learned a huge amount of lessons while at camp."
I find that almost everyone who has worked camp over the summer believes that the spiritual growth, lessons learned, or experience in high-stress environments have greatly helped in their formation of work ethic and character – both necessary in the job world. However, at face value, that camp job doesn't rock a resume as much as we might feel it does.
A female freshman brought another perspective. She said, "As an education major, the camp counselor experience might be seen as an advantage to future employers." Truly, it is not only elementary school teachers who have jobs directly relatable to camp.  For example, I am interested in maybe joining a performing arts troupe one day. Although summer camp might not directly correspond, when I say that I wrote and organized a theatre production (even if it was for kids), that could really boost my chances in a theatre.
As a final note about the useful or uselessness of camp, I think it is important to note that many students looking to find alternate summer work this past year had a difficult time in our economic downturn. It also doesn't help that Prin gets out late, so other job-hungry college students can grab any jobs in May.  While camp does seem to be many people's first choice, it can serve as a backup, and a fulfilling one at that.
So, while you look around Principia and notice all the camp paraphernalia, remember that our counselor-concentrated campus is weird, but a good weird.