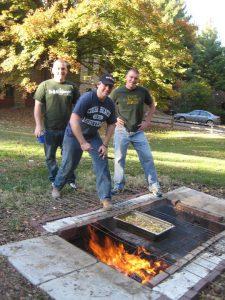 As we finish up our seventh week of classes, there is no doubt that every student wishes we had Wednesdays off every week.  W6 was full of activities, relaxation and fun.  One of these events was the Second Annual Buck Roast and Clothing Drive funded by the Office of Student Life.
At four o'clock, the Buck Roast guests were greeted with music, food and conversation.  The Buck backyard was transformed into a casual cookout for all to enjoy.
An attending student, sophomore Kathy Rich, said, "The event overall is a nice break to catch up with friends, eat scrumptious food and contribute to a great cause!"
Eight crock pots worth of venison stew and chili were prepared by the Buck boys for the event, while green salad, bread rolls, hot cocoa and cider were purchased from Dining Services.  The venison in the stew came from deer hunted on the Principia campus.
Freshman Larry Thibodeaux said, "The food was awesome, and it's really cool that the meat came from Prin property.  That way I know where it has been, what has gone into it, and that it was killed humanely.  I feel better ethically about eating local meat."
Dinner was open until 6:30, and there was a constant stream of students throughout the evening.  Buck social head sophomore R.J. Maunton said that about seventy people went through the line, although no official tally was taken.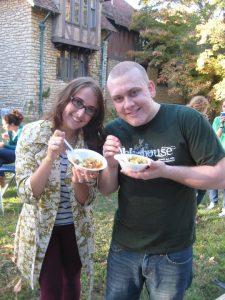 The Buck men also aimed to collect used clothing at the Roast, which will be donated to charity.  Collection buckets were placed in the concourse during the day and trashcans were set up at the feast.  In addition to donations left at these stations, clothing and shoes from the on-campus share boxes were also added to the stash.
Freshman Matt King said, "It's hard to just throw away good clothes but when it is for a good cause, it is worth it.  I don't even wear a lot of the stuff I have so I was more than willing to let some of it go.  And I have put some stuff in the share boxes, so those might even be in the donation buckets."
According to Maunton, several hundred articles of clothing were collected.  Although the charity of choice has not been chosen, it will definitely be for a good cause.
Sophomore Kevin Hagenlocher said, "I had some old soccer cleats at the bottom of my closet that I never use.  I don't know why I was holding onto them so I thought I'd donate them.  Somebody else will make better use of them than I was, and it is for a good cause.  This clothing donation is a good idea, it gets people to give of themselves, which I think is important."
Buck will host other feasts in the quarters to come, and pork and burgers will most likely be served at these meals.