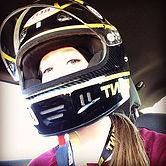 Mackenzie Talcott
MacKenzie Talcott, originally from Colorado, is a business and mass communications double major at Principia College. Her dream job is to write for Car and Driver magazine. Her site covers events like drag racing, drifting, autocross, Formula 1, and much more.
She came to love cars after a project in her Intro to Law class, where she studied illegal car modifications. "I realized that for some, cars were so much more than transportation. I learned the work that some people put into their cars and make it an extension of their personality. Since then, I have become a car enthusiast and am still learning as I possibly can, although I realize I still have years of catching up to do since I was not raised in a car-loving family. Aside from what my brother, dad, and a few friends have taught me, I've taught myself most of what I know," Mackenzie says.
As a female in this industry, she says, "I have often felt unwelcome and been put down for my interest in cars. This issue has been a major contribution to why I started this site. I hope that it will be a place for female car enthusiasts to feel welcome and encouraged to break the gender barrier still present in our area of interest. It's also a place where women can come and learn the basics of cars simply to be educated on a dominantly male subject. This is for my fellow female racers and car enthusiasts, but everyone is welcome!"
http://talcottml.wixsite.com/racingforpinks
Principia College Dance Production 2017 blog shares weekly summaries, stories, and bios to give you a glimpse into the behind the scenes workings of Principia's DanceProd. Show dates are April 13th, 14th, and 15th @ 8pm every evening, with a 2pm matinée on Saturday the 15th.
https://pcdanceproduction2017.wordpress.com