This content has been archived. It may no longer be relevant
A look into Kristin Halsey's role as the Student Ombudsman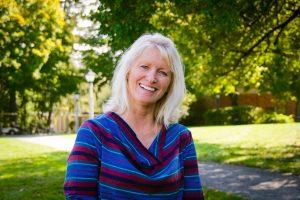 Student well-being and growth in moral character has always been a priority for Principia. One of the ways the college ensures a healthy well-being is through the many outlets designed to help students work through issues and come to fair solutions. The Principia College Student Ombudsman is one of these useful outlets.
Kristin Halsey has held this position on our campus for the past five years in addition to her separate role in the Academic and Career Advising office. But most don't even know what an ombudsman is or what the position entails.
The Student Ombudsman is a support system for students who have run into an issue that they have attempted to solve on their own. These students have typically tried to resolve it through some other channel first, such as the Matthew Code or speaking with an RA, R/CE, fellow student, or professor, but do not feel they have come to a good conclusion.
The role of the ombudsman is to help troubleshoot a student's situation and assist them in coming up with a follow-up step that the student will feel comfortable pursuing. This could be as simple as exploring a different way to approach the problem or creating a dialogue that might be better received by the parties involved.
It could also result in a more formal approach. Some of the cases that come up will include topics of an unfair grade, an issue in a work environment, or others.
According to Halsey, who has received official ombudsman training, there are four key principles associated with her job: confidentiality, independence, informality, and neutrality. Though the ombudsman may take notes during consultation, they are for her eyes only. "If I do take notes, it's just so I can help understand what's going on. When the conversation is over the notes are shredded. I don't keep e-mails," said Halsey.
In keeping with the "independence" principle of ombudsmanship, Halsey's ombudsman position is, in no way, connected to her other responsibilities. "It has nothing to do with my role here in ACA – it's a completely separate thing," she said. Halsey reports only to the Academic Deans about trends she has noticed or multiple issues regarding a similar topic, but names and specifics are never shared. The role is not affiliated with Community Board or any disciplinary action.
There is no formal process that must be followed in ombudsman consultations. Halsey's conversations with students are meant to be casual and authentic.
Neutrality is also important to Halsey. She does not take sides in a situation, nor does she advocate for one party. However, she can act as a silent support in a meeting should that help a student to feel more comfortable confronting his or her issue(s).
Although the Student Ombudsman services are not used often, Halsey feels that having an available ombudsman is a necessary asset for students. "It's a place where people can count on having that confidentiality if they just need to figure [something] out," she said. "In order…to be effective, I need to be a good listener and have a good understanding of how things work here at Principia. I do my best to listen, reflect, and share information in order to help resolve issues."
Image courtesy of Madison Ouellette