This content has been archived. It may no longer be relevant
By Sophie Hills
"Downtown is for booze, bikers, and bars." That's what Penny Schmidt was told when she sold her gallery in New York City, moved to Alton, and bought an industrial building with views of the river with a plan to turn it into loft space.

But, Schmidt saw something in the old building and the town, and the condos sold rapidly. She went on to buy several other buildings with river views, the Scott Bib center and the old YMCA, which has been incorporated into AltonWorks' plans to revitalize the downtown.

The Alton community is experiencing a renaissance of sorts, fueled by philanthropists John and Jayne Simmons, nonprofit AltonWorks, local government efforts, and the many dedicated citizens driven by their love of the small town's rich history.

Alton used to be known for manufacturing, but it's now known for the history, retail, and general aesthetics, explained Ron DeBrock, managing editor of The Telegraph. The community celebrates and embraces its history through events such as Lovejoy Week, honoring abolitionist, journalist, and minister Elijah P. Lovejoy. It took place from Nov. 3-9.

For Principians, Alton, Illinois, can be just the little town on the way to St. Louis. It is, indeed, much more. Abolitionist and free-press advocate Elijah Lovejoy lived there, it was part of the Underground Railroad, and once boasted more millionaires per capita than any other city in the United States.

According to Penny Schmidt, Community Advisor for AltonWorks, the first step is investing in old properties to preserve the history, something that makes Alton unique from other cities on the river. [Editor's note: The article has been edited to correct a reporting error in Ms. Schmidt's title at AltonWorks. The Pilot regrets the error.] When Schmidt moved to Alton in 2006, she was "taken by the beauty of the river, and the historic architecture, and the brick streets."

"We have this overarching goal to make Alton the healthiest, happiest city on the Mississippi in 10 years," said Schmidt.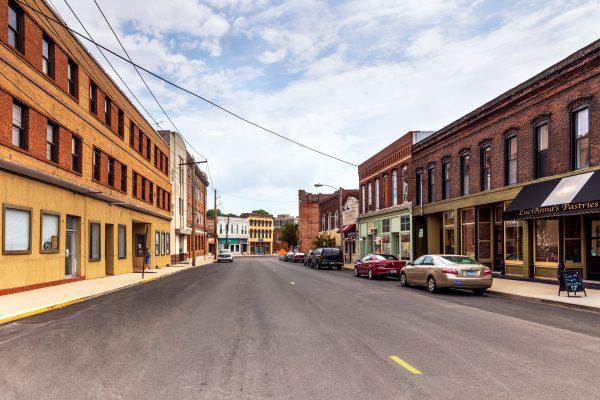 That starts with developing three districts: the Jacoby Arts District, the Grand Entertainment District, and the Broadway Makers District. AltonWorks is in the process of serving the Broadway corridor to create a nomination for a nationally recognized historic district, and then possibly get a state designation, said Schmidt.

Within their goal, AltonWorks recognizes that "the health and happiness of Alton and of a city has to do with creating great places to live and work, beautiful buildings, but also a deeper sense of connection ⁠— connection to place, connection to purpose ⁠— value, being valued in the community. Equity in education is a very important part of that. Healthcare is an important part of that. Diversity of generations as well as ethnicities. A variety of shops and restaurants. All of that feeds into the creation of a happy, healthy culture… We're working with buildings as elements of this larger goal to inspire and attract people to Alton."

"I knew nothing about Alton while I was growing up, like most Principians," said Schmidt, who grew up in Elsah while her father was teaching at Principia. Alton was just a place she rode through on her way to school in St. Louis.

Barb and Gary Davidson have a daughter in Suzhou, China, and a son in Springfield, Missouri. After living in Denver for 50 years, they chose to move to Alton earlier this fall and renovate a historic home.

After seeing Alton listed on an AARP list of the top retirement destinations, the Davidsons visited the town several times, scouting it out. "We…just fell in love with it. It's old, it's historic, it's quirky. It's just perfect for us," said Gary.

Meanwhile, the Davidsons are semi-retired. They go into libraries and underserved elementary schools and deliver Aesop's Fables by way of puppetry and group singing. "[Aesop's Fables] lends itself so nicely to character traits, and social responsibility and those kinds of things. Plus the music ⁠— kids don't get to see live music, they don't get to see live theater," said Barb.

As for the community, the Davidsons are thrilled with what they've found. "People are so friendly. There hasn't been anyone who hasn't been just so welcoming and so supportive," said Barb.

John and Jayne Simmons connected with Schmidt through common interest in downtown properties and love of the river. The Simmons had already redeveloped a downtown building where the Simmons Hanly Conroy law firm is headquartered.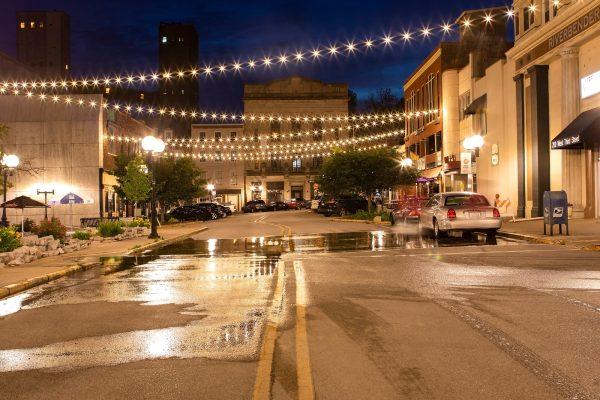 The Simmons teamed up with Schmidt about two years ago. "We thought, there are a number of really beautiful, historic, and vacant buildings that need work," said Schmidt. They saw the potential to revitalize downtown Alton by coming up with a comprehensive plan to redevelop the buildings.

This summer, the Simmons announced an investment of $75 million in the redevelopment effort. "We're really fortunate. It's extraordinary to have hometown investors that are so dedicated to improving the community, to leveraging the beauty of the buildings and the location on the river, and to…coordinating all of these assets," said Schmidt.

Alton has all of the natural assets it needs, said Schmidt, which is part of the reason it was considered for capital of Illinois in the 19th century.

People are beginning to recognize that the river isn't just a "dirty, industrial corridor," said Schmidt. It's poised at a perfect geographical location that can be capitalized on. Nearly every building in lower Alton has river views because the city is terraced, and AltonWorks hopes to create green rooftops, said Schmidt.

"I think over the past two years, especially, we have seen a growing effort in the community to expand and provide new things, not only for residents, but also for people that we're attracting to the area," said DeBrock.

Sydnie Rushing grew up in Brighton, just north of Alton, and recently moved back to the area from Ann Arbor, Michigan. She bought an old building in lower Alton, opened a clothing boutique on the ground level, and lives on the second story. The inspiration for her store, Rushmore, came from having to drive into St. Louis every time she wanted to shop, said Rushing.

Rushing worked in retail for Loft, Madewell, and Forever 21 before opening Rushmore in August. Rushing knew she wanted her store to be located downtown, and wanted to join in the momentum Alton was enjoying from being featured on "Small Business Revolution."

"We're trying to encourage a diverse community," said Nick Schrank of AltonWorks' mission. "It's a revitalization of Alton for everyone." Schranck, the junior developer for AltonWorks, was born and raised in Alton.

AltonWorks is encouraging others to get involved, and Southern Illinois University Edwardsville, has been collaborating heavily, applying their sustainability research to the construction of green roofs throughout Alton.

"It's a hard-working community," said DeBrock. "There is a true sense of entrepreneurial spirit."

"We kind of felt, when we decided to move here, that the place was really ⁠— and this was before we knew about AltonWorks ⁠— we just felt like it was a place that was ripe for nurturing artisans, creatives, makers, and musicians and such…. We want [to be] steeped in that community," said Barb.