The incoming freshman class looks to include at least 96 domestic students and up to 24 international students from five different continents. Of those 96 domestic students, 49 are women and 47 are men, which puts the gender ratio at 51:49.
Last year's freshman class gender ratio was closer to 2/3 women and 1/3 men, but "last year was an unusual year," said Brian McCauley, Dean of Enrollment Management. According to McCauley, next year's ratio of 51:49 is a more typical Principia gender ratio, and significantly more balanced than the national gender ratio of 57:43, according to a recent article in USA Today ("College gender gap remains stable: 57% women," Jan. 26, 2010).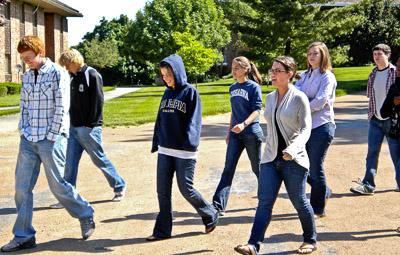 While the 96 domestic students who have sent in their deposits are now able relax in the knowledge that they may come to Principia next year, the 24 potential international students must now apply for visas before they know for sure if they can come. McCauley said, "Typically we lose a couple due to visas or financial reasons." However, if all the admitted international students can make it, Principia will be fortunate to have students from Australia, Chile, Brazil, Germany, England, Indonesia, Kenya, Botswana, Ghana, and South Africa.
On behalf of the Admissions department, McCauley said, "We're pleased that we have some very strong students in this class, as we have in all classes. Strong academically, strong morally, but we particularly have some very strong academic students." He added that the Admissions department looks for "students who will make the Principia community stronger and better," and that "we get even more each year."
The number of current Upper School seniors who will attend the college next year is currently 27, which is 41% of the Upper School graduating class. However, "We expect to enroll about 50% of the graduating Upper School class," McCauley said.
For the past two years, Upper School seniors have had an expedited acceptance policy. McCauley said, "Because [Principia is] one institution, per Policy 15, … we know these students, so we felt they didn't have to go through the same level of the application process as someone who's new to us, so we reduced requirements for information they have to provide to us."
However, the parties involved in making such a policy are "in the process of rethinking that," according to McCauley. He explained that they "think that in fact it's appropriate to do a little more in the application process than they have the last two years."
McCauley said that the Admissions department's primary recruiting technique is daily metaphysical work. He said, "This is prospective students being attracted to this Christ idea in education … It's the Christ that is attracting everybody that should be here and will be blessed by this experience."
In addition to metaphysical work, McCauley said, "We are using much more social networking now. Facebook is a big tool for us. In fact, one outside consultant said they thought we were more sophisticated in our use of social networking than any other college they had worked with."
The recruiting theme, which can be found on the brochures and on visiting students' folders, is now "A Higher Degree," which McCauley said has "resonated with potential students."
However, the key recruiting tools are "the Admissions counselors, traveling and meeting with students and families, as well as visiting weekends," according to McCauley. "Visiting weekends are vitally important … so we continue to do what we can to get prospective students to come visit, because once they get here, they like it," he said. In fact, junior Graham Thatcher, a student Admissions ambassador, estimated in an email interview that a significant majority of students who visit Principia subsequently choose to attend.
Nineteen high school students attended this past visiting weekend. The majority of them were juniors, and were still undecided about attending Principia. About 50 students are expected to be on campus for the final visiting weekend of the school year.
Thatcher wrote, "Admissions schedules visitors as a group because it allows for them to interact with other high school Christian Scientists in a semi-academic setting, an opportunity most visitors have never had." The ambassadors also do their best to pair prospective students with current students who have similar interests, and to build in free time for visiting with friends and family currently attending the college.
In order to improve the visiting experience, the Admissions department is making a concentrated effort to retain ambassadors for multiple quarters "to reduce training expenses and maintain consistency throughout visiting weekend experiences," said Thatcher.
Principia adopted the current national trend of giving prospective students gifts when they visit for a brief period by giving visitors iPod shuffles. However, Thatcher said, after just one weekend "it was decided that it was unnecessary and that a gift certificate to the gift store only usable for Principia name merchandise was a better way for them to remember the college."