This content has been archived. It may no longer be relevant
You never really realize how much you miss being in a home until you go to one after spending a week and a half in a dorm full of loud tourists. After leaving the Globe and our Bankside dorm, we traveled to Surrey and split into homestays with local families. Jodi and I went to stay with Kristina Sutton in the town of Godalming, about 40 minutes away from Claremont Fan Court School. Lila stayed with a family in the same village and was our carpool partner to and from Claremont School on Thursday and Friday. Wednesday night, after church in Esher, Jodi, Lila, and I drove with Lila's homestay mom to Godalming where Jodi and I met Kristina. She welcomed us in, introduced us to her cat, Pansy, and made us tea and biscuits while we struggled to stay awake before curling up in our own rooms (quite a luxury for us) and falling fast asleep.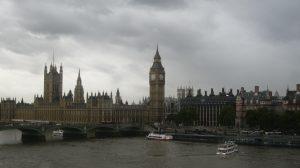 In the mornings, Kristina made us breakfast before we got picked up. We even taught her how to make a bagel for the first time! On Thursday night, after a full day at Claremont, Lila's homestay family and ours took the three of us out for a really nice dinner where we got to meet other members of the Godalming church. Kristina took Lila, Jodi, and myself on a gorgeous sunset walk along the canal behind her house up to the restaurant where we met everyone else. We saw narrow boats, swans, and cows along the canal as well as the beginnings of the town's bonfire for Guy Fawkes Day in November. They treated us to dinner and dessert at Prezzo, an Italian restaurant in an old fire station. It was such fun meeting some of the other people from the town and chatting with them about our trip and the different things they enjoy and the travels they have taken in their lives. One of the ladies we talked with was still disappointed that when she was in the states as a young girl, she never saw an alligator in the South.
After dinner we got a ride back to Kristina's house and even got to drive down a street that was in the movie, The Holiday. The highlight for me, however, was definitely on Friday night. After the PrinClub pizza dinner at Claremont, we had tea and biscuits in the sitting room, and I tried to teach Jodi and Kristina how to tap dance. We ended up dancing around aimlessly and then sitting and telling Kristina all about our dance histories and the Dance Productions at the college. Jodi even showed her some pictures and videos of the 2011 Dance Production. The general consensus of the whole group has been that the homestays could not have possibly been any more fantastic.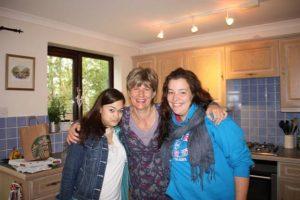 It was so nice to have a comfortable soft bed, dark, quiet place to sleep, and just to be in a home rather than a dorm or hostel. Even nicer than that, though, was the wonderful welcome that we all received from the families nice enough to take us all in. I, for one, felt very loved and will definitely be keeping in touch with my new English mum!