This content has been archived. It may no longer be relevant
The Expert Behind the Ensemble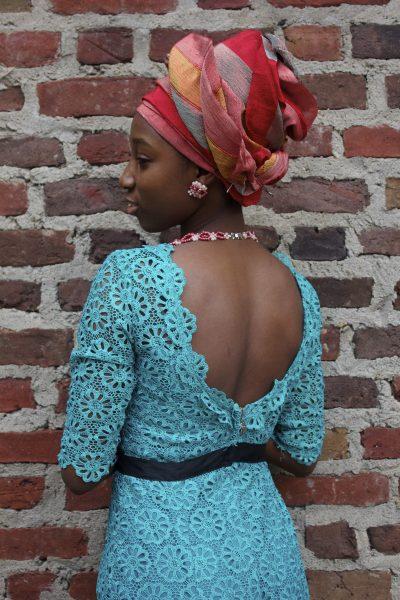 Annelise Suber
Arts Reporter
Unsure of what to wear for Spring Formal? There's no need to stress. Freshman Ore Ajayi will surely have your back. Not only can this fashion designer style your outfit, but she can make it as well! With a passion for creating the perfect combination, Ajayi aspires to create traditional African styles that will be worn worldwide. The Pilot had the pleasure to learn more about her experiences and the motivations behind her art. Excerpts follow.
Annelise: What kind of art do you make?
Ore: I braid. I draw. I make clothes and beads too. I intend to put all of these things together. I don't know what kind of business that would be, but I want to be a fashion designer and make beads, hair – all the things I love.
A: When did you start creating art?
O: The earliest I remember was when I was about seven. I used to pull out threads from my socks. After that I would take the straws from our drinks and use a razor blade to chop the straw into small chunks so they looked like beads. Then I threaded them with the thread from my socks and sold them as bracelets to my friends. Every time I went back home my mom would complain that I had removed all the elastic from my socks so they were falling from my feet! So that's how I started. Later on, I started to develop a liking for needles – I mended everything in the house. Gradually I realized there was an occupation called fashion designing and I knew that was it for me. I started to draw my designs, and it's grown since then. One thing I realize is how lucky I am. I was supposed to be a lawyer, and my parents thought that was a good occupation. When I finally told them that I didn't want to be a lawyer anymore, they supported me. After that I got to be an apprentice with a tailor, and I saw that this was meant for me. I am shy, so I am not sure I would make a good lawyer. But now that I have this, I don't have to be shy about anything. I love making dresses for people, braiding their hair, and making beads for them. Making them look pretty – that's my thing.
A: What do you mean by "making [people] look pretty"?
O: We all have this need to be corrected once in awhile. Like when we're putting things together, you say things like, "I don't think that goes well. It needs a touch here, or maybe these shoes will go better, etc." Doing that – being a professional best friend – is what I want to be. Being the one to say, "Oh, you look nice" or "How about we do this to the dress?" It's just about knowing how to put your things together.
A: How would you describe your style?
O: It's more traditional; [I'm] trying to bring back the African style. Most Africans are now into western dressing, and maybe on very rare occasions (or at extremely important events) they wear traditional things. I feel like we're losing the call of our tradition. I would like to bring that back and add a few touches of Western dress. [I want] to revive our customs and make them more popular. I see it as something even Americans would like and wear, not just Nigerians.
A: Have you made any clothes yet?
O: I have, a lot! I made a skirt for myself and a dress. My mom and my sister [share a birthday]. So two years ago when their birthday was coming up, I was inspired to make a dress for my sister and design one for my mom.
A: What's it like to see your design come to life?
O: It's like…can you imagine what God felt when he made man? Just thinking of something and then making it come to life? That's how I feel. When I made this dress, I went step by step with my teacher, and I was really amazed when this came out. I was like, "Oh my gosh, I'm a tailor – I'm a fashion designer!" It comes with very, very good feelings.
If you are an artist interested in being featured next issue, please contact the interviewer at Annelise.Suber@principia.edu
Image courtesy of Annelise Suber