This content has been archived. It may no longer be relevant
Cue Donna Lewis' "I Love You Always Forever."
Okay. So it's a song you won't know till you hear the chorus. And once you hear it, you'll wish you hadn't. The entirety of your afternoon will now be spent repeating the title of said song and the embellishments that come with it. I don't love this song, but every time I hear it, I can see a series of stills from my college years. This is not because this song explains these moments.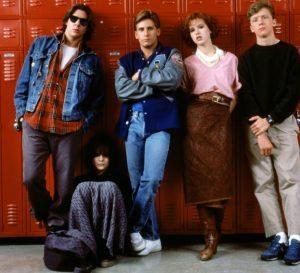 This just happens to be the kind of song oft used toward the end of senior slideshows and romantic comedies based in high school. This song is for the determining moments. These characters, these friends "love you, always forever/near and far, closer together" etc., etc. Isn't that awesome and intoxicating? Yeah, but it isn't real. Whoever Lewis is singing to is most likely dodging her calls and talking to their attorney about a restraining order.  It's like "Every Step You Take." Sting just sounds like a stalker. So why does it make me think of graduating?
At the last pep rally I ever attended (they were mandatory in high school, don't judge, go tigers…), the seniors were honored with clapping and Eve 6's "Here's to the Night" played on repeat. It played four times and it wasn't weird. It should have been, I mean, this song came out eight years before I graduated. A sappy song by Bright Eyes or Death Cab would have made more sense for a 2008 graduate than a nod to the American Pie generation. Maybe it wasn't weird because of movies like those that made it feel normal.
We were the kids who grew up expecting graduation to be summed up by movies made for our older siblings. She's All That and 10 Things I Hate About You explained our experience even though Mean Girls probably should have. Or maybe it's just me. Playing songs that repeat "don't let me let you go" remind me of every John Hughes movie ever made. In Pretty in Pink, the prom scene has the OMD song "If You Leave." In The Breakfast Club, Judd Nelson walks across the football field, fist in the air, to Simple Minds "Don't You Forget About Me." It's all the same thing, mediocre to bad song summing up the entirety of all that was the last four years of our lives, blah, blah, blah. But this is all high school. Where's the collegiate song that ties all the loose ends together?
Spoilers: I have no idea and I don't think I should be the one to decide. The song that encompasses college should be a song that almost everyone can tolerate. The in-reform music snob cannot be responsible for this, the final song. It would be too easy to pick something that would make an exclusive group out of me and my small, but mighty group of friends. This kind of elitism isn't what the graduation song is about. John Hughes would kick my ass for being a jerk and he would be justified. The graduation song is meant to unite individuals on the grand scale. Maybe if we were at a different school I could quote Asher Roth's "I Love College" and be done with it. It would make all our lives easier.
So what are we left with? The top song of the week is "Somebody that I Used to Know" by Gotye (feat Kimbra), not to be confused with the Elliott Smith song, although Gotye is playing on the same theme and similar chorus. This Gotye hit is the opposite of the graduation song. The tune is about the singer being left behind and having little more than memories of almost love and lots of hurt. This is not waxing poetic about always loving forever or not letting one let the other go. This song is about the void we're left with when they, whoever they are, leave. Perhaps this is the perfect song for graduating college. I am assuming most of us have left a lot of the idealism of high school behind. We don't talk to all our BFFs as often as we planned to and they just don't comment on our walls as they once did. They stopped poking us ages ago. Maybe we are becoming extremely aware that our college friends are going the way of our high school ones, they're just somebody that we used to know.
Too dark? Maybe this English major is just an over-reading cynic who is having a hard time believing the promises made by John Hughes and the American Pie soundtracks. God forbid, right? But this cynicism isn't satisfying. If that Gotye song represented my future I can't say that I would be enthused to live another day and that's not just because I find the song annoying. I want something upbeat to get me through graduation and the next stills of my life. I want Wreckless Eric's "Whole Wide World" without the obsession with finding a mate. I want a longer Neutral Milk Hotel's "King of Carrot Flowers Part 1" and a less sad but just as beautiful Sufjan Stevens song. But, as I said originally, the graduation song should be universal. Maybe that's impossible out of the simulacrum of a blockbuster movie. Maybe I am unsatisfied that I can't have one song reach every member of this year's senior class. It was probably stupid to try. With my luck, the best fit would be the most depressing one, Skrillex. In this case, universality is certainly overrated.
At this point, I suggest you pick your own graduation song. Make a playlist that consists of the worst and perfect moments. Make it too sappy for words or so tragic that you have to skip the third song in order not to cry. Or make it mediocre. When you find yourself lost or directionless, wait till the next grad movie to come out. They'll give you something to work with. And me? I'll just cue some eighties nod like The The's "This is the Day" and fade out.
Image courtesy of