By Chris Strong
For the 27 senior student-athletes on the six spring sports teams at Principia, not one knew that they were playing in their final game, when it occurred. Due to the COVID-19 outbreak, life turned upside-down for all of these athletes, when campus closed on March 13 and all sports seasons were cut short.
"It was very jarring for everyone to feel it all end in just 10 minutes," said Abe Ott, a senior on Track and Field.
Two months later, the Pilot is taking a look at each team to highlight the seniors who did not get the closure they'd expected at the end of their college careers.
For Principia's baseball team and its five seniors, the second game of the doubleheader against Fontbonne University on March 10 seemed like an average evening. The Panthers' win ended up mattering a lot more than expected, since it was the final game of the seniors' college careers.
The lineup card featured all five seniors batting back-to-back. Stephen Strong batted fourth, going 3-for-3 with four RBI in his last dance. He finished his career just five hits short of a career goal of 100 and one inning away from 100 innings pitched. He emphasized that winning his last game meant more than any of those stats: "It was a nice way to unknowingly end the season. It's nice being able to look back on that and have a good memory associated with your last official game," said Stephen Strong, a senior from Plano, Texas, who played all four years for Principia. (Disclosure: The author is a Principia baseball player and the brother of one of the baseball team players.)
Sean Hannan and Nathan Wood batted fifth and sixth respectively, each tallying a hit and combining to pitch all seven innings of the game. Wood's parents had plans to watch every game of his final season in person, having already traveled on road trips from St. Louis to Kentucky and Arkansas. The Spring break trip to Florida was their next planned destination.
Batting seventh, Ryan Eisenauer had played 11 seasons in a Panther jersey, starting in middle school. His leadership behind the plate helped boost his senior class to new levels. The group of five were just three wins away from becoming the most winning class in Principia baseball history. Eisenauer scored the 13th and final run for the Panther's offense.
"I remember giving Nate Wood a hug after Will Adler caught the final out in foul territory … Looking back, if there was ever a final game to go out on, that one sure was it," said Eisenauer.
Rounding out the lineup was Will Adler, the two-year captain for this Panther squad, who had the chance to play with his younger brother Jack for two seasons. Adler showed the team how to play the game the right way, displaying the approach that won him a spot on the SLIAC all-sportsmanship team in 2019.
"They've been a great senior class and our group chat has been fire throughout the four years," said Strong.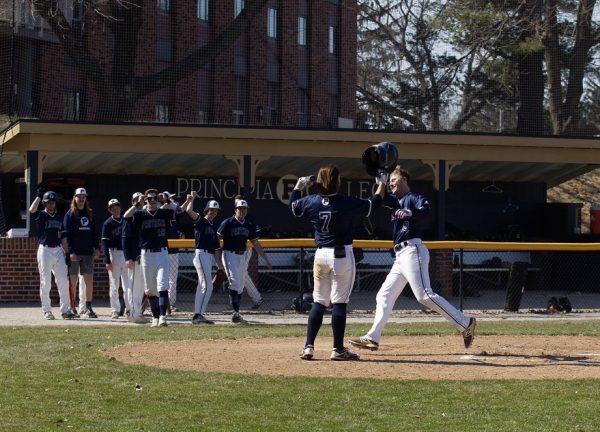 The Softball team was ready for a typical Thursday afternoon practice when told the news. The trip to Myrtle Beach had been cancelled but more importantly, so was the entire season. Hannah Hathaway and fellow senior Lauren Daugherty had played for Head Coach Ken Leavoy since their freshman year of high school.
The two teammates always had little competitions going on during the season, including this one, their senior year:
"Whoever hit more home runs gets to pick the other person's outfit for banquet. We had one each after the four games, so no one won that competition, Daugherty said. "As soon as I hit my home run, I ran to home plate laughing at her. Then she hit hers and was yelling at me, so it was fun to have that."
Hathaway was a metaphysical rock for many of her softball teammates, just as she was for the other sports teams she played for. She was able to speak to her teammates bluntly and push the others to improve.
Senior Nikki Matters, playing in her first season, had spent just two weeks with the squad after the conclusion of the basketball season. She picked up the sport quickly and brought the team a competitive edge.
In her three years playing softball, Elise Doyle contributed both metaphysically and competitively on the diamond. Her teammates described her as an embodiment of a lot of what Principia softball strives for in their last season of competition.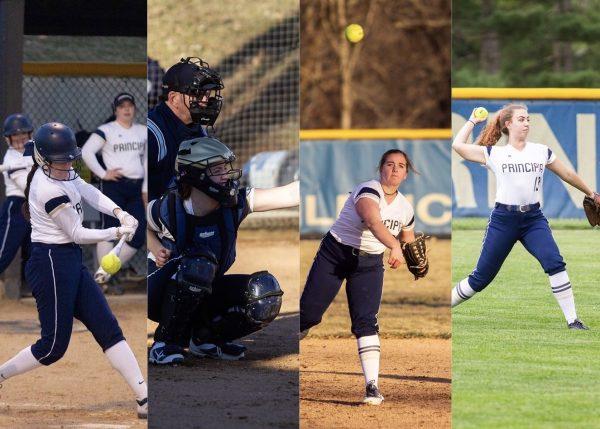 Tears flowed among Track and Field athletes when they were told their season was cancelled. However, a bit of hope remained for a potential return later in the semester.
"There was kind of a thought that if things blew over, we'd come back and compete for the SLIAC Conference Championship. They had a bit more flexibility than the NCAA," said Ott.
This hope ceased when Interim President John Williams announced that students would not return to campus following Spring break.
Ott ended his four-year college career at his best, beating his 800-meter indoor lifetime best by a full second – finishing with a time of 2:00.44 at the SLIAC Championships earlier this season.
Senior thrower Chris Puduski had been one of the hardest workers in Crafton, doing so without a coach for many years. In the past season, Director of Athletics Ann Pierson brought the best that teammates had ever seen out of Puduski, who broke the all-time Principia weight throw record at 16.13 meters in the 2020 indoor season.
"Getting to see [Chris] blossom under her instruction on top of his hard work alone, showed so much progress for him. He's the best thrower who's ever gone to Principia. Period," said Ott.
Paige DeBoer and Marie Sherman had both done cross country and track throughout their four years at Principia. They were described by teammates as showing true leadership, and among the most supportive on the team, always boosting team morale.
Like Puduski, Elsa Heath worked in the shadows for much of her college career. Her teammates admired her perseverance. She completed her final track meet with a 500m time of 1:34.66, moving into second place all-time for Principia women in the 500.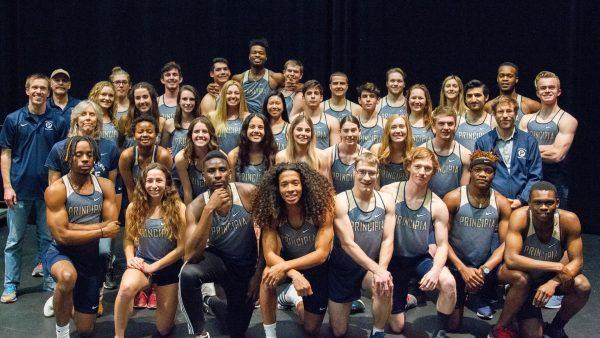 Principia's tennis team had every expectation of repeating as SLIAC champions this season. Their two seniors, Greg Sovie and Daniel Gomez, had already been a part of three championship rosters going into the 2020 season.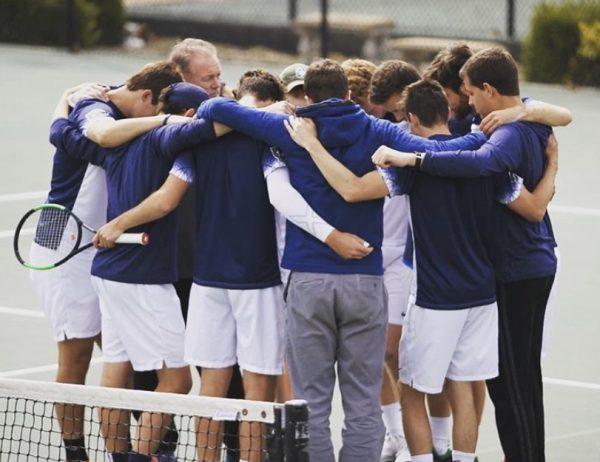 In an Instagram post prior to the season's start, Sovie's description read: "One last go around with the boys" with the hashtag #Project14. Although the team started the year with a strong 9-1 record, they were never given the chance to go on another championship run in Sovie's 14th year playing tennis.
Sovie's next Instagram post on March 12 contained just one word: "Speechless."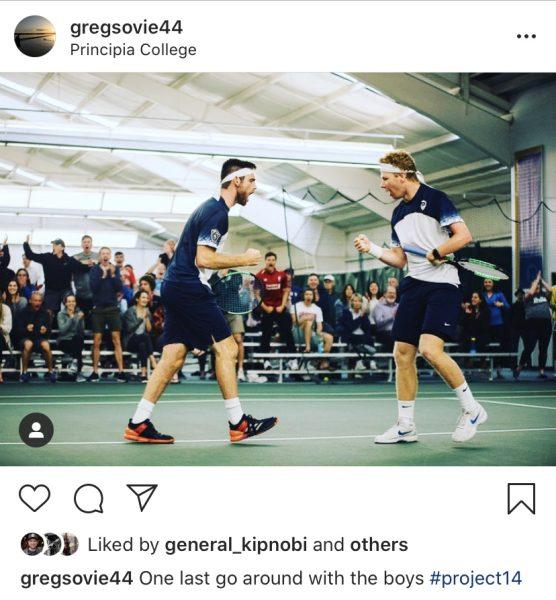 The Principia beach volleyball team was halfway through their season when it was canceled. The 10-person roster, led by four seniors, had the week off before Spring break after a hard-fought loss against Missouri Baptist University.
In that match, senior Devon Marunde capped off her four-year career with a win in two straight sets. Marunde's teammates say they loved her joyful nature on the sand, always holding a smile in the middle of a match.
As a three-sport threat, playing soccer and basketball as well, Sophia Hathaway has been described by teammates as someone that will always bring a positive attitude and pick other players up when needed. She constantly brought her hard work ethic to whichever sport she played on a particular day.
Mesa Goebel brought great metaphysical thought to the beach volleyball team at the perfect times. Her tenacious spirit made her a good pairing with junior Sarah Ungerleider.
"They were the best teammates that I could ask for," said Victoria Vandiver. "I could not be more grateful to play with them for four years."
Vandiver came into freshman year brand new to the beach game. Her hard-working mentality on the sand made her a great setter for whoever she partnered with. Vandiver and Hathaway together had a joyous, gritty approach in their final season as Panthers.
"Beach was a new sport to Prin, when we came in as freshmen and we all fell in love with it," said Vandiver.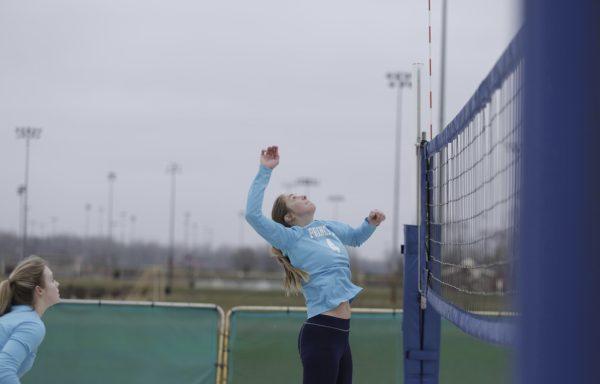 The 7's rugby team was prepared to start its Spring season with a tournament in Louisiana two days after the season was cancelled. In preparation, they had been practicing since Winter break.
It would likely have been a special season for the Thunder Chickens. They returned seven seniors from the previous year, when they finished with a 10-4 record and a trip to the National Championships.
"With how strong we were – returning players, an All-American, experienced guys – we were planning on going out there and trying to win the whole thing," said senior Dylan Sheets
Six of the seniors – George Agai, Nick Jacobs, Pyetha Kyaw, Scott Marunde, Bubba Sugarman, and Sheets – spent all four years on the team. Each of them left their hearts on the pitch, often competing against Division 1 opponents.
TreVaughn Goodman, a USA Rugby 7's All-American, took the squad to the next level with his three seasons at wing. His contributions to the Thunder Chickens were every bit as significant as his to the basketball team during the Winter season.
"I love each and every one of those guys from the bottom of my heart," said Sheets.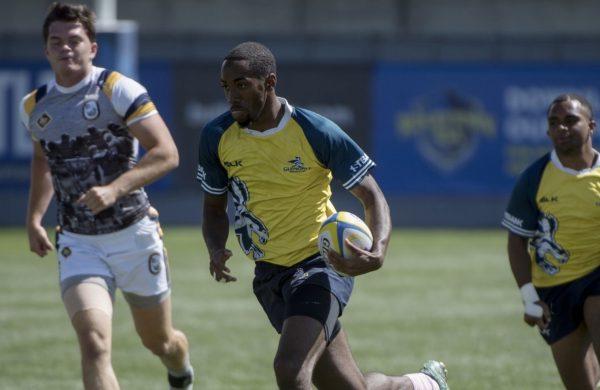 The Panthers' six Spring sports teams benefited greatly from the leadership of their seniors. The 27 of them may not have gotten a traditional Senior Day, but their teammates, coaches, and parents realize all that they brought to Principia College during their careers.
"The hardest part was not knowing what game would be your last," said Daugherty.